Hilton Worldwide is known for pleasing guests at its global network of posh properties and service-focused hotels. Employees of the luxury lodging giant are also pleased: Hilton Worldwide took the top spot on CareerBliss' 50 Happiest Companies for 2012.
Hilton Worldwide has created one very big happy family.
"It is always gratifying to receive accolades from our own team members, and we are grateful to CareerBliss for collecting their opinions and awarding us with this fantastic honor," said Dianna Vaughan, Vice President Culture & Recognition.
What is it about the culture that makes the Hilton Worldwide team so happy?
"As an employer, we know that if we treat our team members well they will, in turn, treat our guests well. We are continuously focusing on ensuring we are offering a great work environment, a great place to learn and the best career advancement opportunities," Matt Schuyler, Chief Human Resources officer, said,
Hilton Worldwide on its culture:
Since our founding, we have been first and foremost dedicated to serving our guests so we can fulfill our vision to fill the earth with the light and warmth of hospitality. Our company culture is defined by a set of core values that team members at Hilton Worldwide practice each day.
Hospitality: We are passionate about delivering exceptional guest experiences.
Integrity: We do the right thing, all the time.
Leadership: We are leaders in our industry and in our communities.
Teamwork: We are team players in everything we do.
Ownership: We are the owners of our actions and decisions.
Now: We operate with a sense of urgency and discipline.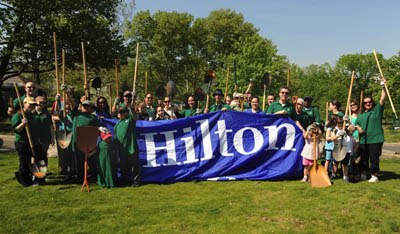 The Ideal Hilton Worldwide Employee:
Our succession in this company is based on core competencies and values. Team members thrive because they demonstrate and are recognized for:
Living the Values
Collaboration – The ability to build strong, productive working relationships within or across groups, functions, brands and geographies to improve effectiveness
Customer Focus – The ability to proactively sense and take action on customer needs and opportunities
Judgment – The ability to analyze data, make tough decision and take risks
Leadership – The ability to envision possibilities, build high performing teams and inspire passion
Results Focus – The ability to deliver results and solutions and keep the focus on driving customer value
Strong Business Acumen and Integrity – The ability to identify growth opportunities and make ethical decisions to convert opportunities into loyal customers and/or business relationships
Work Life Balance – Those who work hard and genuinely care about the guests, but also find time for personal interests and family/relationship commitments
Hilton Worldwide Offers Superior Training:
It is critical that our leaders and team members have the necessary knowledge and skills to do their jobs effectively and have the ability to grow and develop personally and professionally. At Hilton Worldwide, there is a world of learning opportunities ranging from on-the-job training to management development. Hilton Worldwide University is a virtual, global university that offers an extensive training curriculum to provide each team member across our organization with direct access to the right skills, knowledge, and learning experiences to be successful.
Hilton Worldwide is Dedicated to Diversity:
Today Hilton Worldwide's footprint includes more than 89 countries, with team members speaking more than 40 languages. Understanding their unique perspectives, along with those of our guests, suppliers, owners, and community partners, is essential to our success and to driving our performance in an increasingly competitive global economy.
Our senior leadership is committed to investing in programs that promote diversity, such as inclusion training, and respect for international traditions and customs. We also aim to increase our presence in local communities through team member volunteerism, partnerships, and giving programs.
Hilton Worldwide Benefits:
Hilton Worldwide offer a wide range of benefits including medical, prescription drug and dental plans, 401(k) savings plan, life insurance and disability. Other benefits include employee assistance program (EAP), paid time off, career opportunities and professional growth. In addition, we have a Team Member Travel and Family Member Travel Programs, which offer discounted rooms for leisure, upon availability, within our Hilton Worldwide portfolio of brands.
What Hilton Worldwide Employees Have to Say:
I like the friendly culture, the feeling of working for a quality brand, the exposure you get to senior level leadership is outstanding, and the feeling of working in a small company, but yet it is a global organization. – Hilton Worldwide team member
The company values and culture – the sense of security given to everyone that they belong and that their contribution matters and is appreciated and - in my position - the autonomy and freedom I enjoy in managing my time and prioritizing my tasks which enforces the sense of ownership and adds to the enjoyment and satisfaction of being able to reach and exceed objectives and targets. – Hilton Worldwide team member
10 Great Things About Working at Hilton Worldwide:
One of the most recognized brands in the world.
Friendly and welcoming culture, with hospitality in our DNA.
Advancement opportunities (e.g. entry-level team members have been known to go onto management positions).
Excellent training to excel in your career.
Global scale – opportunities to work in many different regions.
Fastest growing hospitality company in the world (with new jobs opening every day).
Strong corporate citizen – we believe in giving back to the areas where we live and work.
Competitive benefits packages.
Satisfaction of delivering exceptional guest services.
Being a part of a diverse team that is consistently recognized with high honors.