CareerBliss is an online career community designed to help you find happiness in the workplace and in your career. We are an information hub for everyone in the workforce - direct employers, job seekers, and recruiters.
Absolutely. We are committed to helping our users achieve bliss at work by sharing for free our millions of independent employee-submitted company reviews, salary comparisons, job listings, and direct company questions & answers. You can sign up for a free account here.
CareerBliss.com provides hundreds of thousands of real-life company reviews, past and present salary information, and job listings for millions of companies. Browsing this type of data is useful when you're job searching. You can get an idea of what jobs pay, what employees like - and don't like - about the company, and gain insight into the general company culture.
A company's BlissScore is a number generated by compiling the key factors which affect work happiness, including: one's relationship with your boss and co-workers, your work environment, job resources and satisfaction, compensation, growth opportunities, company culture and reputation, daily tasks, and job control over the work that you do on a daily basis.
This data accounts for how an employee values each factor, as well as how important that factor is to the employee's overall happiness. Each review is given an average score indicating where the company places, out of a max BlissScore of ten.
All assessments are derived from user-submitted reviews written by real employees.
Company reviews are written by employees who want to share their experiences at their company. We have hundreds of thousands of company reviews written by people just like you – in every position from company interns and trainees, right up to the CEO and executive leadership positions.
You can help add to that bank by submitting your own reviews of the companies you've worked for.
Our experienced CareerBliss Content Team personally reads each review and evaluates it for signs that it is a real, honest review and is not written by individuals seeking to promote their own companies or by third parties working for monetary gain (known as review farms).
No human-run system can be 100% foolproof. If you see a company review which you believe may have been written by someone with a conflict of interest, please report it to our admin team at contact@careerbliss.com, including the URL of the review in question.
Absolutely not. All reviews must be written by genuine employees who are not paid by or acting as promotional speakers on behalf of the company. CareerBliss is a free service run for the benefit of employees and jobseekers, not the other way around.
While everyone needs to let off steam from time to time, surprisingly, the numbers beg to differ. Here's the breakdown as of Q1 2014, where 5 is the top rating and 1 is the worst rating: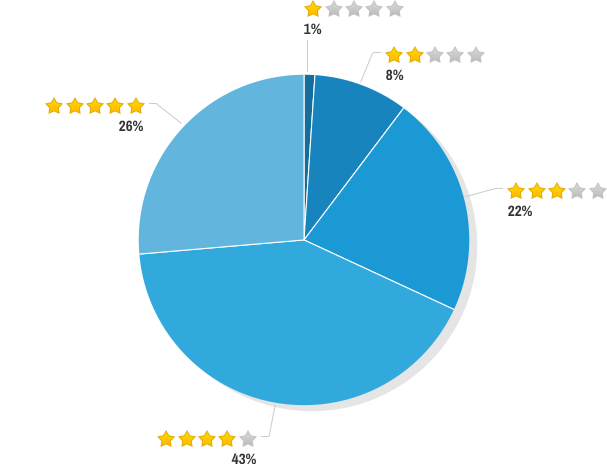 As you see, almost three quarters of our CareerBliss reviews are 4-5 star, indicating a high level of job satisfaction by our reviewers.
We ask only one thing: that you have personally worked at the company you're reviewing. Don't write a review based on your friend's experiences, or what your mother's sister's cousin once said about her boss. Only first-hand, personal employee reviews will make the cut onto CareerBliss.
Your position does not need to have been paid (for instance, internship or trainee jobs) for you to review the company, but you must have spent real time at a real company. We do not accept reviews by self-employed workers/ freelancers, unless your review focuses on one company that you have contracted for. Agency reviews are fine so long as you review the company you worked for, not the agency.
You cannot review your university or college unless you've had a paid or unpaid job there. Your job must have been conducted outside of your studies, such as a postgraduate, postdoctoral or teaching assistant job.
Of course, but be aware that readers will already assume you are biased in favor of your company. Try to provide an honest assessment of your business from an insider's perspective, and avoid promotional comments or blowing your own trumpet (although we know that's fun to do). Please do not add promotional backlinks as these will be removed before publication by our admins.
All CareerBliss reviews are anonymous: your name will not be attached to your review. All CareerBliss reviews are labeled only with your job title and company name. If you wish to hide your job title – for instance if you're CEO in a firm of three people – you'll have the option to do this before you submit your review by clicking the 'Remain Anonymous' check box.
The purpose of these reviews is to share knowledge about companies you've worked for. We ask that you do not promote yourself or your services in your review. If you post your resume, personal contact information or requests to be contacted for a job, your post will be deleted or edited.
While we're all for honesty, be aware that your review could be read by anyone, from your boss to your mother. While you may be tempted to vent following a layoff or a firing, if you're still working for the company in question, it might be wise to refrain from posting full details of your issues with the company until you are no longer an employee. CareerBliss cannot be held liable for the real-life consequences of your negative company review, and by using our site you agree to these terms.
Of course! Be sure that your review is helpful to other readers by telling us exactly why your company deserves recognition for its greatness. If you have great perks, a wonderful boss or an outstanding office environment, then give us full details, so we can pass the info on to our users.
If a concrete fact written in a review is incorrect or outdated, such as the wrong state/ city listed or your website address is outdated, please contact CareerBliss at contact@careerBliss.com with a URL link to the review or company page in question. Tell us your company name, and provide us with the correct and updated information. We will update your company page with the new information.
CareerBliss is a 100% user generated site. Our system automatically creates a free company profile page for any companies that are reviewed by our users. If you would like to update this information, please send us the following:
Full company name (including suffixes such as Inc, LTD, LLC etc)
Website address
Main headquarters address
Brief (1-2 paragraphs max) description of your company.
If you wish to add extra content for a more fully built-out page, such as logo, corporate contact information etc, we can create a paid Company Profile page upon request. Please email contact@careerbliss.com for more information.
N.B.: Please note that having a paid profile page does not mean you have control of any reviews posted there. Employees are free to air their views on your paid company profile, just as they are on our free listings.
CareerBliss automatically creates a profile page for all companies that are reviewed by our users. If you don't have a company listing on CareerBliss, this is usually because none of your employees have reviewed your company yet.
If you are an employee and want to write a review to put your company 'on the map,' you can get started writing your company review here.
While nobody likes to read bad things about themselves, remember that each employee's experience of your company is subjective and that one bad review will not make or break a business.
When people read reviews of your company, they will be looking for the overall rating of your company, as described by many different reviewers. If everyone says that your company is great but one person says it's terrible, the majority vote will win out.
All reviews posted on CareerBliss are confidential, and we do not give out user information, period. Please be aware the due to the large volume of reviews we receive on a daily basis, CareerBliss cannot and will not mediate disputes between employees and companies over negative reviews.
The only exception is if the review has violated one of our Content Guidelines – for instance, if a review gives a person's real name, or contains racist or sexist statements, then we'll be happy to review and potentially remove it, but again, we do not share our confidential user information.
All decisions by our admins are final. We do not accept payment or bribery in order to remove negative reviews. Sending us freshly baked cookies doesn't work either, though if you wish to do so, we will not discourage you.
This is strongly discouraged, as this would result in biased reviews. If your employees know that you are going to be reading the reviews they have written, they will not be totally honest in their assessment, and this will be misleading to our users. Such reviews often read very poorly, and are easily spotted by our Admins.
The best thing you can do is to provide your employees with a fantastic experience as an employer, and you'll find that the good reviews take care of themselves.
If you have a company listing on CareerBliss, then congratulations – someone cares about you. Company listings are created automatically when an employee writes a review on your company. The company profile is then populated by CareerBliss staff using openly available information gathered from your official website and general public records, such as headquarters address info.
We do not publish any 'secret' information that is not easily obtainable by anyone with access to Google. We will not remove your listing just because you don't want to be listed.
A company profile page on CareerBliss does not indicate any affiliation with, sponsorship by or endorsement by CareerBliss of your company. Facts and figures published in the body of reviews represent the views and opinions of the reviewer only. These reviews are not representative of the views and opinions of CareerBliss, nor any members of its staff or workforce.
You are welcome to help us improve your company page by alerting us if our information is out of date. Please send an email to contact@careerbliss.com. We can include: your website address, your corporate headquarters address, your CEO, and your company industry.
We can also include a short (1-2 paragraphs) original blurb about your company. Please keep this factual and informative and don't copy and paste content from your website. Tell us what your company does and a little about your history in your own words.
Please don't send us press releases, details of your blowout sales events, page long essays about why your company is so great, or photos of your CEO smiling and hugging babies. These regrettably cannot be published on our site.
We also cannot current support logos or videos unless you'd like to upgrade to a paid corporate profile. For more details on this, email us at contact@careerbliss.com.
Simply copy the URL link from the address bar of your reviews page or the individual review, and paste into a new post. Including a funny or relevant picture along with your post has been shown to drive up clicks and interest in the review. For instance, '#ReviewWednesday' is a popular tag on Twitter.
CareerBliss currently doesn't support this feature. If you believe a review violates our Content Guidelines, please write to us at contact@careerbliss.com and we'll take a personal look at the review. We understand that nobody likes to read bad things about themselves, but it is not our policy to remove a review just because it is negative. To do so would be labeled corporate censorship.
CareerBliss is an entirely user-generated site. Once somebody has reviewed your company, your company page will be generated automatically by our system. We don't remove company listings for any reason. Even if we did, as soon as another person reviews your company, your profile page would be instantly recreated by the system.
Reviewers have a right to review and talk about your company if they wish to do so. CareerBliss is one of many hundreds (if not thousands) of user-generated websites and discussion forums which allow this kind of information to be uploaded and stored.
One word - no. CareerBliss does not remove reviews unless they violate our Terms of Use or our Content Guidelines.
Salary figures are user-submitted and meant as a general guide to salary only. All published salaries are tagged with a time-stamp indicating how long ago the salary was submitted. All salaries are submitted anonymously and by using our site, under our terms and conditions, the user agrees to waive all rights afforded to them under any previously existing non-disclosure contracts between themselves and their employing company.
We feel your pain (really we do – we get our share of bad reviews too!). Unfortunately, any good lawyer will tell you that such cases are usually dismissed under modern communication laws such as SLAPP (Strategic Lawsuit Against Public Participation), which protect published online information that furthers discussion on issues of public interest.
Many legal companies will claim to be able to help you sway online ratings, but the involvement of lawyers, marketing companies etc. will not increase your chances of getting a bad review removed or your ratings manipulated. All these lawyers are interested in is removing the money from your pockets and most know they will not win the case, but will choose not to share this fact with you.
Many laws exist to protect an individual's right to freedom of speech, both online and offline, and the providers and users of an interactive computer service who publish information provided by others are themselves absolved of liability when companies try to sue the, via laws such Section 230 of the landmark 1996 Communications Decency Act.
In many such cases, entering legal proceedings only serve to draw public attention to a company's censorship request, and may result in significant financial costs to the company when dismissed.
The very best defense against negative ratings and publicity is a good offense, in the form of your company providing a great working experience to your employees and workers.
No. Bad reviews cannot be hidden, re-ordered or deleted unless they violate our Terms and Conditions or our Content Guidelines. This applies to every company listed on our site, with no exceptions.
This is not a service we currently provide. CareerBliss exists to help jobseekers find the company and career of their dreams. Beyond a basic text-only listing of your general company details, we cannot publicize or promote your business or product line.
If you wish to include more information beyond a basic free listing, please write to us at contact@careerbliss.com and ask to purchase an upgraded paid company profile.
If you have hired an honest lawyer, he or she will tell you the truth: bringing a case against an online internet-based resource which is user generated (like CareerBliss) is a really hard case to win. The kind of case you'll want to present will be most likely a Defamation case, which you'll find to be expensive, time consuming and difficult to win as there are so many laws protecting freedom of speech.
It also be damaging to your brand if word of your lawsuit leaks to the news or onto social media. This is known as the Streisand Effect, named after the famous court case where Barbra Streisand's attempts to censor online information posted on a public forum about her backfired and instead wound up with that information going viral.
CareerBliss is a forum where employees, both ex and current, can air their views on the companies they've previously worked at without fear of retribution. The law backs this up on every point which addresses fair internet usage and the right to free speech, which your lawyer will inform you.
While we are all for free speech, CareerBliss's Content Guidelines outline behavior we will not accept, such as racism, sexism or other such hate speech. If you believe you have a case, please refer to our Content Guidelines and alert our CareerBliss team if you believe our guidelines have been violated in conjunction with your company name.
Thank you for asking! Employees are motivated to write reviews on CareerBliss when they have a personal opinion on a company they feel compelled to share with the world. That review may be either good or bad, but in the immortal words of Oscar Wilde, "the only thing worse than being talked about is not being talked about."
If you already have a few reviews, congratulations! If you'd like more reviews or to increase the quality of new reviews that are left under your company name, here are some ideas to help you achieve this:
First up, we advise that you don't ask your existing employees to write reviews for you. Doing so creates a sense of obligation, and the reviews won't be honest, as your employees will only write what they think you want to hear. This creates bland, unhelpful reviews.
Bulk reviews written to-order by a company or content farm writers are easily picked out by our trained team of in-house editors. They will be rejected, and we may watch your company more closely in future or even temporarily suspend your account if we feel you are trying to rig our ratings by submitting fake reviews.
Your best bet to get better company reviews on CareerBliss is simply to be good to your employees. Happy workers have been linked to higher company profits, less staff turnover, and a better quality of life for everyone.
There is no magic wand you can wave to make everyone post only positive reviews. People will always find something to gripe about. But if you have nine positive reviews and only one negative one, people will automatically see your company in a favorable light by the law of averages.
Our goal is to encourage employees to leave honest reviews on CareerBliss, so jobseekers will see CareerBliss as a trustworthy resource to turn to when they're choosing a new company to work for. Your goal is to make sure your company receives good, strong reviews which you can use as good publicity for your brand.
If people trust our content, they are more likely to take your reviews seriously. If you have good reviews, that is fantastic word-of-mouth advertising for your company.
In order to encourage this without being obnoxious, here are some tips:
Newsletter Item: You may want to show off your positive CareerBliss reviews to your staff in a company email, memo or newsletter. By congratulating the company as a whole for receiving good workplace reviews, you'll raise morale and encourage your staff to check out CareerBliss, where they may decide to leave their own reviews, further promoting your company to the world.
Add a link to your CareerBliss profile on your website, encouraging customers to check out your great employee ratings on CareerBliss. People love to buy from companies that treat their workers well.
In Your Email Signature: If you're really proud of your reviews (and we hope you are!), add a link to CareerBliss in your email signature reading "Check us out on CareerBliss!"
CareerBliss periodically reviews existing content to ensure it meets our content and quality guidelines. If one or more of your reviews goes AWOL, it will be for one of these reasons:
The person who wrote the review may have requested that we remove it.
It has been temporarily taken down by our team to be reassessed for quality. Reviews containing bland, unhelpful or one-word answers may occasionally be culled to improve the usefulness of our site.
A complaint has been received about the review, and it has been temporarily taken offline while we check that it does not violate our Terms of Service or our Content Guidelines.