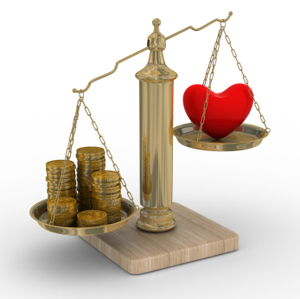 Irvine, CA (February 9, 2011) CareerBliss, the leading online career community helping people find joy and success at every step in their careers, announces new data revealing the key driver of work happiness may not come in the form of a paycheck, rather in an employee's sense of accomplishment, their relationship with peers, and the daily tasks associated with their work. CareerBliss evaluated more than 1,600,000 data points from independent employee reviews to determine what drives career happiness and makes some people love their job while others hate it.  The CareerBliss data reveals that even more important than annual income are essential factors such as working at a company where there is room to collaborate with a well-rounded group of peers and being able to have control over their work.
CareerBliss evaluated more than 200,000 reviews in multiple job type categories to find the top three factors which contribute to work happiness:
1. The work one does: The specific tasks one does on a day to day basis
2. The way one works: How much control ones has over their daily tasks
3. The people one works with: Their relationship with co-workers
These factors were present in a majority of reviews. In comparison, salary did not rank on the level of importance in the majority of the job type categories reviewed nor was salary ranked as an important value when measuring overall job satisfaction levels.
CareerBliss also found that certain professions yield happier employees. For example, people in biotech and customer service related jobs averaged higher happiness scores than those in the legal or healthcare field.
CareerBliss Happiness Scores – Which industries have the Top 10 happiest workers?
| | | |
| --- | --- | --- |
| CareerBliss Job Happiness Ranking | Job Industry | Average Score |
| 1 | Biotech | 3.275 |
| 2 | Customer Service | 3.108 |
| 3 | Education | 3.084 |
| 4 | Admin – Clerical | 3.066 |
| 5 | Purchasing | 3.065 |
| 6 | Accounting | 3.059 |
| 7 | Finance | 3.046 |
| 8 | Nonprofit | 3.039 |
| 9 | Healthcare | 3.039 |
| 10 | Legal | 3.035 |
Heidi Golledge, CEO and Co-founder of CareerBliss says, "Salary is always an important component of every job, however, the CareerBliss research shows that money is not enough to keep good employees happy.  Before accepting a new job, it is imperative to know a company's culture and truly understand what the new job entails. From the employer's perspective, realizing salary is not one of the key drivers of workplace happiness can help employers focus on the areas which will drive job satisfaction to create a happier environment for all."  CareerBliss.com posts millions of salary data points and anonymous reviews which allows job seekers to see what it is like to work at a company before they accept a new position and employers to gauge how they are doing in their pursuit employee happiness.
Methodology:
The CareerBliss data evaluates the key factors which affect work happiness, including: one's relationship with their boss and co-workers, their work environment,  job resources, compensation, growth opportunities, company culture, company reputation, their daily tasks, and job control over the work that they do on a daily basis.
The data accounts for how an employee values each factor as well as how important that factor is to the employees overall happiness. The two scores are combined to create an average score. All factors and values are rated one through five, a five indicates extreme happiness with a category, while a one indicates extreme unhappiness.