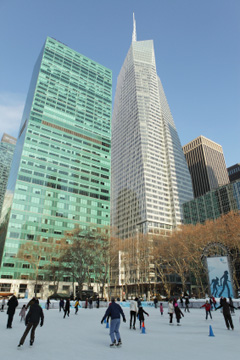 Irvine, CA (April 27 , 2011) CareerBliss, the leading online career community helping people find joy and success at every step in their careers, announces new data revealing The CareerBliss Happiest Big Companies to Work list. CareerBliss evaluated more than one million data points and thousands of employee generated reviews from some of the nation's largest corporations to determine what factors impact overall job satisfaction levels. This new data enables CareerBliss determine the top companies with the happiest employees – valuable information for those looking to understand what key factors affect a happy work environment.
Happiest Big Companies to Work
* CareeBliss Score: One to 10 Scale Rating 10 Aspects of Job Happiness
CareerBliss looked at what drives employee satisfaction - such senior management, award and compensation programs, work-life balance and the communication structure of a company to determine how these types of factors impact employee happiness. What the data reveals is that work-life balance, along with the senior management, greatly impacts a large company's happiness score.
Heidi Golledge, Co-founder and CEO of CareerBliss says, "We are excited to bring information about the factors which impact employee happiness. Most company evaluations look primarily at salary; our CareerBliss team believes happiness goes beyond just a monthly paycheck. We have to look at the things that truly drive happy employees such as relationships, employee incentives, growth opportunities and work-life balance. By doing this - and understanding how large corporations keep their employees happy – we can create more effective, productive and happier work environments."
IBM, a leader in the tech world ranked first overall in employee happiness. Workers from IBM rank their senior management, relationship with co-workers and the support they receive from their company exceptionally high versus other companies who fell in the top ten. Companies which also made the list include leaders in banking and finance such as Bank of America and healthcare giant Kaiser Permanente.
Methodology:
The CareerBliss data evaluates the key factors which affect work happiness, including: one's relationship with their boss and co-workers, their work environment, job resources, compensation, growth opportunities, company culture, company reputation, their daily tasks, and job control over the work that they do on a daily basis. The data accounts for how an employee values each factor as well as how important that factor is to the employee's overall happiness. Each review is given an average score indicating where the company places between one and ten. All assessments are derived from 2010 – 2011 employee generated reviews. A large company was defined as any corporation with more than three thousand employees or more.
Golledge of CareerBliss says, "It is imperative to look at the structure and culture of large corporate America. Many of these companies employ thousands of American workers and its useful information for both managers and employees to see what types of programs work and create productive, happy workers."