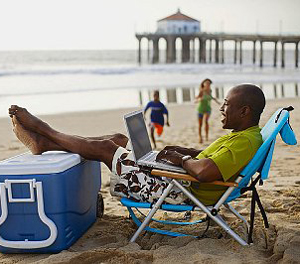 Irvine, CA (June 15 , 2011) CareerBliss, the leading online career community helping people find joy and success at every step in their careers, announces new data revealing what cities are the happiest for men who want to balance work and family life. CareerBliss evaluated more than 600,000 data points and derived information from 47,000 male employee reviews to determine which cities ranked highest in the area of work-life balance.
Top 10 Happiest Cities for Men
| | | |
| --- | --- | --- |
| Rank | Metro Area | Bliss Score |
| 1 | San Jose | 7.404 |
| 2 | San Francisco | 7.398 |
| 3 | Brooklyn | 7.301 |
| 4 | Miami | 7.290 |
| 5 | Charlotte | 7.244 |
| 6 | Washington D.C | 7.236 |
| 7 | San Diego | 7.213 |
| 8 | Dallas | 7.156 |
| 9 | Atlanta | 7.135 |
| 10 | Los Angeles | 7.128 |
Ranking first overall is the city known for all things tech – San Jose, California. Matt Miller Co-founder and CTO of CareerBliss explains why San Jose ranks number one. "San Jose is one of America's great technology hubs, often tech jobs can provide flexibility and mobility – even allowing employees to work from home. This type of work environment is ideal for men with families."
In close second in the Top 10 Happiest Cities for men is San Francisco, a city also known for its booming technology market. Other notable cities which made the list include Miami known for its tourism and trade industry and Washington D.C., which offers a large number of military and government jobs. In all of the Top 10 Happiest Cities a consistent them amongst reviews was the importance of flexibility in the workplace. One review submitted by a financial wholesaler in Charlotte, North Carolina stated: "I work for a very family-friendly company that offers a very nice benefit package and the company offered a great training program." Other reviews analyzed discussed the value of working remotely and flex scheduling.
Heidi Golledge, Co-founder and CEO of CareerBliss says, "This latest data is vital for men who are looking for careers in cities which feature the type of jobs conducive to balancing work and life. Our team is finding that more and more job candidates are valuing flexible work environments over compensation packages - noting that time with family is vital in making a career decision."
Methodology:
The CareerBliss data evaluates the key factors which affect work happiness, including: work-life balance, one's relationship with their boss and co-workers, their work environment, job resources, compensation, growth opportunities, company culture, company reputation, their daily tasks, and job control over the work that they do on a daily basis. The data accounts for how an employee values each factor as well as how important that factor is to the employee's overall happiness. Each review is given an average score indicating where the company places between one and ten. All assessments are derived from 2011 employee generated reviews. For the purpose of this data – all employee reviews are from male employees. More than 47,000 reviews were assessed to determine the top ten highest ranking cities for work-life balance.