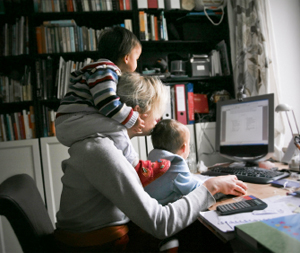 Irvine, CA (May 5, 2011) CareerBliss, the leading online career community helping people find joy and success at every step in their careers, announces new data revealing what job types may be best for women when it comes to balancing work and life. CareerBliss evaluated more than one million data points and derived information from sixty thousand female employee reviews to understand what job types ranked highest in the area of work-life balance. After assessing the reviews, CareerBliss found that jobs which allowed for a flexible schedule and the option to work from home garnered some of the highest ratings for work happiness in female employees.
Happiest Job Types for Working Moms
| | | |
| --- | --- | --- |
| Ranking | Job Type | Bliss Score |
| 1 | Pharmaceutical | 3.8169 |
| 2 | Biotech | 3.7594 |
| 3 | Admin, Clerical | 3.7166 |
| 4 | Accounting | 3.6487 |
| 5 | Telecommunications | 3.6415 |
| 6 | Human Resources | 3.6241 |
| 7 | Strategy - Planning | 3.6229 |
| 8 | Business Development | 3.6195 |
| 9 | Quality Assurance | 3.6137 |
| 10 | Information Technology | 3.6130 |
Ranking first overall are jobs in the pharmaceutical industry. One CareerBliss reviewer states, "I liked working for GSK Pharmaceuticals as it was a company where you could grow, they cared about employees and we were always recognized. GSK Pharmaceuticals had integrity, they believed in hard work and family." Jobs reviewed in this area were primarily women in sales positions who had more flexibility with their schedule.
Ranking just below pharmaceutical job types are biotech jobs which include engineers, researchers and area sales managers. Ranking third – administrative or clerical jobs - women in this job type said that the senior management who supported their family life was a large factor in their overall ranking of their company. One reviewer who is an executive assistant says, "I truly enjoy going to work each day and the environment with my peers and my bosses. The company supports a happy balance of work and home life."
Heidi Golledge, CEO and Co-founder of CareerBliss, says, "We analyze what makes employees happy and delve into the factors which impact all groups of workers. This latest data is unique and important in understanding what drives work happiness for working mothers. We have learned the factors which weigh heavily for female employees include growth opportunity and most importantly work-life balance – as seen by our latest results. As a mother working myself, it is good to see fellow working mothers not only finding success in their workplace in these fields but truly finding CareerBliss."
A consistent theme throughout many of the reviews was the importance of flexibility – having a company which enables employees to work a typical schedule, but have the option of flexible hours to provide for things such as doctor appointments, childcare and other family needs. An administrative assistant for a large sales company states, "I can balance my work and personal life how I see fit. If I am ill, I don't have to worry about losing my job so I can go to the doctor."
Methodology:
The CareerBliss data evaluates the key factors which affect work happiness, including: work-life balance, one's relationship with their boss and co-workers, their work environment, job resources, compensation, growth opportunities, company culture, company reputation, their daily tasks, and job control over the work that they do on a daily basis. The data accounts for how an employee values each factor as well as how important that factor is to the employee's overall happiness. Each review is given an average score indicating where the company places between one and five. All assessments are derived from 2010 – 2011 employee generated reviews. For the purpose of this data – all employee reviews are from female employees. More than sixty thousand reviews were assessed to determine the top five job types for work-life balance.