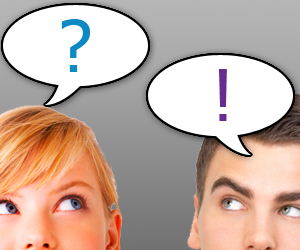 Irvine, CA (June 22, 2011) CareerBliss, the leading online career community helping people find joy and success at every step in their careers, today announces the launch of CareerBliss Company Q&A. The first of its kind, Company Q&A is the only online community where job candidates can ask questions and receive uncensored answers about a potential employer directly from a current employee. With more than 11,000 thousand questions and answers, Company Q&A engages both job candidates and employees in real discussions about topics such as, salary, work-life balance, senior management, vacation time, pay structure, health plans, and the general culture of a company - vital information which can be helpful for anyone looking to find the right career fit.
Company Q&A offers a quick three step process for job seekers. The Company Q&A is designed to:
Anonymously allow candidates to post a question about a potential employer or company of interest
Feature real employees and their responses to questions about their current company, all while protecting the employees privacy and identity
Engage community members with a voting feature, allowing community members to rate responses that are most helpful
Heidi Golledge, Co-founder and CEO of CareerBliss says, "It often takes at least ninety days for a new employee to truly integrate into a company and start to experience the company's culture. CareerBliss Company Q&A allows candidates a confidential inside look at what a potential company has to offer straight from the people who work there. These are uncensored answers from employees who have first-hand experience with a company's culture, pay structure and senior management. This type of information is invaluable for candidates looking to find a career match."
With thousands of questions and answers, Company Q&A features explicit inside details on a variety companies including some of the nation's largest airlines, major restaurant chains, top technology companies like Google and Apple, leading ecommerce sites like Zappos and even small independent businesses. All responses and questions are anonymous which encourages community members to be candid in their dialogue. Company Q&A strictly adheres to a policy that protects community member's privacy and identity.
Matt Miller, Co-founder and CTO of CareerBliss says, "You may think discussion boards and communities just feature topics on some of the nation's largest companies, but Company Q&A is different. We have candidates and employees from Wall Street to Main Street – asking and answering vital questions. Company Q&A gives the power of accessing culturally specific information on companies across all industries, nationwide."
Company Q&A features career topics including the following: work-life balance, salary, pay, senior management, career growth and advancement and company culture. Jobseekers can delve into the areas of a company they are most interested in learning more about and find out what really makes up the work environment. Some sample question and answers from the community include:
Leading Airline Company:
Jobseeker Question: "How stressful is the work environment?"
Employee Answer: "Culture has improved significantly with changes in management over the past year. Stress is somewhat high as the organization is going through many changes but, the stress is controlled and changes are communicated and decisions include recommendations/feedback many organization members from all levels. Long work hours are required in many cases, but I enjoy doing what it takes to get the job done right and have been a 7 to 5:30 employee for many years. I have always enjoyed the challenges associated with delivering a quality product."
In addition, there are candid responses from employees who did not have an entirely positive experience with a company. One employee of a major healthcare institute says, "As the years went by and new management came in its morals dropped somewhat, but I kept my positive attitude and hoped for the best. The past two years have been very difficult and the management form the CEO to some of his staff became complacent and didn't seem to help the employees keep up the positive outlook we had in the beginning."
In addition to the Company Q&A, CareerBliss houses more than three million job listings and information on the top companies including salary, company structure and overall employee happiness ratings. "We live in a time where it is essential for both employers and job seekers to have the capacity to utilize as many resources as possible when making decisions about hiring and job hunting. The launch of Company Q&A is not just a way to find a new job for 2011, but a way to ultimate career happiness for years to come," says Golledge.