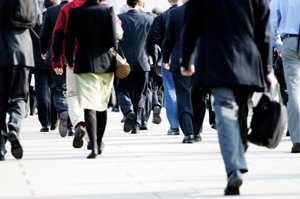 Irvine, CA (January 25, 2011) CareerBliss, the leading online career community helping people find joy and success at every step in their careers, announces new poll data which rates how people feel about President Barack Obama's efforts to grow the job market. More than one thousand adults were polled and asked to grade the President on his commitment to job growth with a letter grade "A" through "F." What the CareerBliss data found is that more than half of individuals polled did not give the President a passing grade, signifying that as the economy recovers, so does job seekers sentiment toward the President's focus on job growth.
Poll Results: Grade President Obama's Efforts to Grow Jobs
| | |
| --- | --- |
| Grade | Percentage* |
| A | 17% |
| B | 13% |
| C | 9% |
| D | 11% |
| F | 50% |
*Data collected from January 21-24, 2011. Sample of 1,059 adults
Fifty-percent of individuals in the CareerBliss poll gave the President's efforts toward job growth and failing grade, while seventeen percent felt the President deserved an "A" for his efforts in the job sector.
Methodology
Results from this poll are based on internet survey sampling on Careerbliss.com conducted between January 21 -24, 2011 with a sampling of 1,059 adults living in the United States. Individuals were asked to give a letter grade of either (A,B,C,D,F) to the job growth efforts made by President Barack Obama.
Poll Response
Those who support the president comment, "Recently, I have been getting a lot more job offers and have seen many people I know getting jobs. So, things seem to be looking up!" says a CareerBliss user who took the poll.
Others argue that more could be done from the President to grow jobs and assist those who are still unemployed. One person polled says, "Since day one with him he has had his own agenda which was total opposite of mainstream USA. He should be fired for not listening."
Another CareerBliss user states, "After you exhaust your 99 weeks of unemployment what happens, these people think moving from your good house to a shelter is exotic. The congress and the senate need to do something to help people if they cannot create jobs. The ideal situation is to work but we need help."
Despite sentiment in this recent poll, CareerBliss hiring data shows positive job growth. Heidi Golledge, Co-founder and CEO of CareerBliss says, "In 2011, we are seeing an increase in hiring in many areas and more open job listings each day. There is a growing trend in hiring for mid-size cities like Baltimore, and Hartford Conn. There are opportunities out there and we are seeing positive growth."
In addition, there are several fields that continue to grow. "Look for jobs in technology, engineering and sales," says Matt Miller, Chief Technology of CareerBliss. "Our unique data tracks annual job openings and shows that there are many areas where job demand is high." Miller says some of the key areas where there is job growth include the following fields:
Despite poll data, CareerBliss says hiring data shows an upward trend. "Our data shows there is a lot to be optimistic about in the coming months, for both companies and job seekers alike," says Heidi Golledge of CareerBliss.