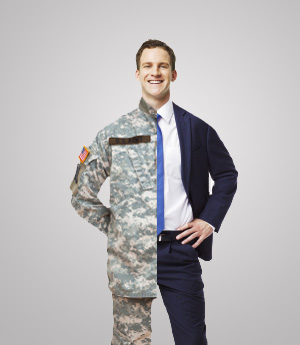 UPDATE: Check out our most recent 2012 list of the Best Companies for U.S. Veterans here.
Irvine, CA (May 26, 2011) CareerBliss, the leading online career community helping people find joy and success at every step in their careers, announces new data revealing the Best Companies for Veterans. CareerBliss evaluated more than 200,000 data points to determine what companies are hiring candidates with United States military on their resume. The CareerBliss data shows these military-friendly employers not only have the highest number of job openings, but also received the highest Bliss rating from their employees who say they're happy with the work that they do, their peers and the person they work for.
Top 10 Best Companies for Veterans*
*Based on the amount of job openings which require military experience
Heidi Golledge, CEO and Co-founder of CareerBliss say, "Servicemen and women provide a skill set that in many cases cannot be matched. Military training can often be a vital job requirement for many positions." Jobs such as aircraft mechanics, network analysts, and experiment controllers all demand a candidate who has military experience.
Matt Miller, CareerBliss CTO and Co-founder says, "The companies in our Top 10 list focus primarily on defense contracting, aviation, systems analysis and private security – all fields where military background is not only an asset, but a requirement. It is important for all companies to see how our military not only shapes the security of our country, but is a valuable part of shaping the private sector as well."
Methodology:
The CareerBliss data evaluates the key factors which affect work happiness, including: work-life balance, one's relationship with their boss and co-workers, their work environment, job resources, compensation, growth opportunities, company culture, company reputation, their daily tasks, and job control over the work that they do on a daily basis. The data accounts for how an employee values each factor as well as how important that factor is to the employee's overall happiness. Each review is given an average score indicating where the company places between one and ten. All assessments are derived from 2011 employee generated reviews. The CareerBliss data evaluated open jobs in 2011 with military experience, ranking the top 10 companies with the highest number of job openings and highest happiness rating.