If you live in New York City, you'll know you have to work hard to attain anything you want in the city – your apartment, breathing space in your schedule, even elbow room on the subway. So how, then, do you go about achieving the one thing every New Yorker dreams of – happiness in the workplace?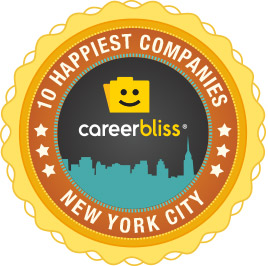 CareerBliss has put together a list of the Top 10 happiest companies in NYC, as voted for by our users. We've sifted through data gathered from thousands of user-submitted reviews, tallied the scores, and posted the list below. We hope you enjoy our Top 10!
Happy Jobs in NYC
New York City is the #1 most densely populated city in America, with over 8 million people living within its five boroughs, which span a total of 305 square miles. Described as the cultural and financial capital of the world, NYC is home to the United Nations and boasts an estimated 800 spoken languages.
NYC is an immensely important city in the global economic system, an internationally recognized powerhouse of technology, commerce, technology, finance, education and entertainment. Last year, the Metropolitan Statistical Area (defined by the US Office of Management and Budget as a city with an urban core with a population of at least 50,000 people) produced a Gross Metropolitan Product (GMP) of nearly $1.37 trillion.
That's a lot of people in a lot of jobs – so how do we find out which companies are the happiest?
To figure this out, CareerBliss looked at thousands of employee-submitted reviews received by our site since January 2013. These in-depth reviews ask employees questions to help rank their company and experience of working there over 10 different aspects of job happiness, on a scale of 1-5. These aspects include: the culture of their company, the fairness of their compensation in relation to their job duties, the management of their company and the environment they work in, and so on.
Check out our Top 10 list of happiest NYC companies below!
Ranking criteria: Companies within a 20 mile radius of New York City (10001); 5+ reviews posted since Jan 2013.
Top 10 Happiest NYC Area Companies – in Their Own Words
Here's what the employees of our Top 10 happiest NYC companies had to say about their employers…
Web Developer: "I've worked at Zerve for more than 8 months now and all I can say is, wow! This place is a great place to work at and easily accessible! Everyone is friendly and we seem to operate on the same wavelength."
Customer Service Intern: "I really enjoyed having fun, intelligent, dedicated coworkers. There is a huge opportunity for growth at Zerve and the team really loves to watch interns flourish. You even get to interact with the CEO and I felt like my voice meant something at Zerve. The relationship I built with not only my coworkers but my supervisors was amazing and I wouldn't trade it for anything!"
Junior Designer: "I found ConEd to be an interesting and fulfilling place to work; after all, they supply energy to one of the largest cities in the world. I love the learning curve - you are always learning something new and challenging."
Mechanical Engineer: "If you ever get the opportunity to work for ConEd, don't pass it up: go for it. It gave me the experience I required to face the world's challenges. They treated everyone with the utmost respect and always offered comfortable facilities to work in."
Designer Intern: "I worked at Viacom for 6 months and it was a really good experience. As an intern, my supervisor and manager there were really helpful. It was one of the best places to work at, where you always have something new to work on."
Senior Director of Digital Technology: "I've worked at Viacom since 2003. Working through numerous roles, I have gained an amazing amount of experience in web development, software development, iOS/Android development and management. Viacom is a huge company and one I would recommenced to others for employment."
Teaching Assistant: "I really enjoyed working and studying here. It is a very beautiful place. I experienced the joy of making a difference to student's lives."
Teaching Assistant: "Nice working environment, large sport facilities and beautiful location."
Senior QA Engineer: "Overall, it's an awesome company to work for. I love it because I'm always learning something about new technologies, and better ways of doing things. I am very meticulous about "quality," and I get that satisfaction when I see a project go live with great quality."
Lead QA Engineer: "The thing I loved most about this company was the culture. The CEO was big on work and personal life balance. He also made sure everyone has the right tools to do their job. He was always for investing in new technology to make our life better. For all employees, their attitude was to say YES before saying NO. We finished projects other companies thought were impossible."
VP of Operations: "I liked the product and project work, the use of technology and the opportunities to create something unique and captivating. The wide range of products/projects was also a big plus. There were some excellent people in the company. The production values, time, care and attention spent on promotion and packaging were fantastic."
Assistant Controller: "Love everything about it. Great employees to work with as well as an excellent company to work at. I would recommend friends and family to work at Sony."
Anonymous Employee: "I have worked at ABM for a little over a year now and I have to say that the overall atmosphere is wonderful. I like the group of people that I work with and the diversity. I have moved up two positions and have received two raises in the past year."
Operations Officer: "ABM Government Services is a great company. Providing support to our armed forces is an outstanding and fulfilling occupation, and an experience everyone should have. I've met with some of the highest ranking members of NATO and the US Military in organizing, developing and implementing the Command Surgeons and the Surgeon General of Afghanistan vision of the healthcare system."
Anonymous Employee: "We work on a lot of different, really cool projects with different government agencies and public organizations. It is my job to figure out how to put technology to work to solve those problems - what our capabilities are, what we SHOULD do, and how we should do it. Our projects have a clear real-world impact, and I have a lot of input and leeway to make them happen."
Accommodation Specialist: "Everything about this job is great. CUNY has helped me mature in my own field. It has prepared me for my next step and the skills that I have learned here will forever be with me. Thank you CUNY!"
Anonymous Employee: "Fairleigh Dickinson University has a startup environment with lots of creative freedom. Very fulfilling with the benefit of a lot of technical and creative freedom. The perks of being able to conduct research and work on innovative products makes it worthwhile."
Systems Analyst: "I've worked for FDU since 2010 and it's been an incredible experience so far. I've learned a lot and am still learning new things every day. This is an excellent place to start your career, because you'll have an opportunity to see and explore various different technologies and deal with different people."
Controls Engineer: "I've worked for Pfizer (formerly Wyeth) for 20 years and it is a great place to work. Everyone treats you with respect, and the environment gives you plenty of opportunities to grow and become more diversified in your skill base."
Computer Technician: "It's a challenging and interesting line of work. The people here have been good to work with. I wouldn't mind staying here!"
---
Think your company should be on this list?
Post a company review to nominate your company for next year!
Looking for a happier job in 2015?
Start your job search now and take a look at 3.5 million happier jobs on CareerBliss!