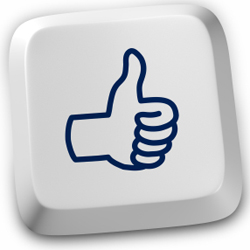 Want to be happy at work? Getting a job at an awesome company is a good start.
To identify some of those companies, we turned to our awesome archive of company reviews submitted by employees over the last few years and searched for the keyword awesome.
Each of the following companies has at least four reviews in which the word was used in a positive way: Awesome company. Awesome people. Awesome management. Awesome culture. Awesome benefits. Or, just plain awesome.
We included each company's overall BlissScore – a score on a scale of 1 to 5 that measure's employee happiness based on several factors, such as coworkers, compensation and advancement opportunities.
Check out these awesome places to work:
Overall BlissScore
: 3.9
-- check out
Abbott Laboratories jobs
Overall BlissScore:
3.9
-- check out
Apple jobs
Overall BlissScore:
3.9
-- check out
Cisco Systems jobs
Overall BlissScore:
3.9
-- check out
Johnson & Johnson jobs
Overall BlissScore:
3.9
-- check out
Intel jobs
Overall BlissScore:
3.8
-- check out
Accenture jobs
Overall BlissScore
3.8
-- check out
Alcatel-Lucent jobs
Overall BlissScore:
3.8
-- check out
American Express jobs
Overall BlissScore:
3.8
-- check out
IBM jobs
Overall BlissScore:
3.8
-- check out
Infosys jobs
Overall BlissScore:
3.8
-- check out
JP Morgan Chase jobs
Overall BlissScore:
3.8
-- check out
Kraft Food jobs
Overall BlissScore:
3.8
-- check out
Microsoft jobs
Overall BlissScore:
3.8
-- check out
Oracle jobs
Overall BlissScore:
3.8
-- check out
Sony Music Entertainment jobs
Overall BlissScore:
3.8
-- check out
Wells Fargo jobs
Overall BlissScore:
3.7
-- check out
ADP jobs
Overall BlissScore:
3.7
-- check out
American Airlines jobs
Overall BlissScore:
3.7
-- check out
AT&T jobs
Overall BlissScore:
3.7
-- check out
Bank of America jobs
Overall BlissScore:
3.7
-- check out
CitiGroup jobs
Overall BlissScore:
3.7
Overall BlissScore:
3.7
-- check out
Prudential jobs
Overall BlissScore:
3.7
-- check out
Sprint jobs
Overall BlissScore:
3.6
-- check out
Amazon.com jobs
Overall BlissScore:
3.6
-- check out
BAE Systems jobs
Overall BlissScore:
3.6
-- check out
Cablevision jobs
Overall BlissScore:
3.6
-- check out
Dell jobs
Overall BlissScore:
3.6
-- check out
HP jobs
Overall BlissScore:
3.6
-- check out
Starbucks jobs
Overall BlissScore:
3.6
-- check out
Verizon jobs