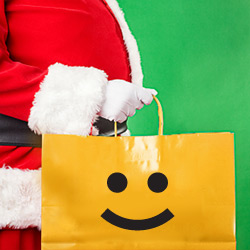 If you're heading out into the hustle and bustle of the holiday shopping season check out our list of retailers with the happiest employees and improve your odds of having an enjoyable shopping excursion. CareerBliss' Top 10 Happiest Holiday Retailers list is based on nearly 2,000 reviews — evaluating more than 11,000 data points — in which retail workers gave their opinions about compensation, benefits and career advancement, among other factors.
"There is a clear correlation between happy employees and improved customer service"

CareerBliss

CEO and co-founder Heidi

Golledge
said. "
The

CareerBliss

Happiest Holiday Retailer list offers shoppers a clear picture of which retailers are leading the way in fostering happy work environments. This information can add value for shoppers as they decide which retailers they will be visiting this holiday season."
Top 10 Happiest Holiday Retailers
Happiest Holiday Retailers — Key Factors
Methodology
The CareerBliss data evaluates the key factors that affect work happiness, including: work-life balance, one's relationship with their boss and co-workers, their work environment, job resources, compensation, growth opportunities, company culture, company reputation, their daily tasks, and job control over the work that they do on a daily basis. The data accounts for how an employee values each factor as well as how important that factor is to the employee's overall happiness. Each review is given an average score indicating where the company places between one and five. For the purpose of this data – more than 1,800 independent employee reviews and 11,300 data points were assessed. A total of 54 companies were analyzed in this data. Make sure to check out this year's list with last year's 2010 happiest holiday retailers list.