CareerBliss has compiled a list of the Top 10 Happiest Companies in the Bay Area for 2014, based on data received from Bay Area employees. These top companies have each been voted by their own employees as being happy, rewarding and fulfilling places to work. If you're currently searching for a job in the Bay Area – dive in!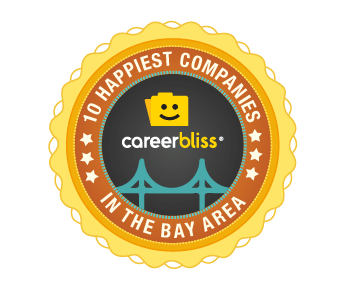 Happy Jobs in the Bay Area
The Bay Area in San Francisco has long been a magnet for companies and people who think outside the box. Now it looks like job satisfaction is high up there on the list of city attractions, for this international hub of forward-thinking people and businesses.
Encompassing the metropolitan areas of San Francisco, Oakland, and San Jose, along with many smaller urban areas, the Bay Area is the backbone of San Francisco's economy. It has a spirit of entrepreneurship which has led to it amassing the second greatest number of Fortune 500 companies of any region in the US. It also contains five counties with the highest per capita income in California, including two counties which are listed among the top 25 wealthiest counties in the United States.
To figure out which Bay Area employees are the happiest, CareerBliss looked at thousands of independent employee-submitted reviews received by our site since Jan 2013. These in-depth reviews ask employees to rank their company and working life over ten different aspects of job happiness, on a scale of 1-5. These aspects included the culture of their company, the fairness of their compensation in relation to job duties, the people they work with and the environment they work in.
"Being truly happy at work is one of the keys to being happy in life," says Heidi Golledge, CEO and co-founder of CareerBliss. "Each year, thousands of employees visit CareerBliss to rank and evaluate their employer. We are honored to be able to award the Bay Area companies that lead the way in providing happy work environments and truly value their employees."
Check out the Top 10 list of happiest Bay Area companies below!
Ranking criteria: Companies within 50 mile radius of San Francisco (94102). 5 or more reviews posted since Jan 2013.
Top 10 Happiest Bay Area Companies – in Their Own Words
Here's what the employees of our Top 10 happiest Bay Area companies had to say about their employers…
At Acer in San Jose, a feeling of being in a corporate family topped the list of job satisfaction for many employees surveyed at this multinational hardware and electronics corporation. Acer's employee retention was also highly praised, with many employees calling Acer 'home' for multiple decades.
Senior Systems Administrator: "I have worked for Acer America for 16 years. I consider myself a member of the Acer family. This company has great opportunities to grow. Acer culture is very family oriented and people are very supportive and caring."
Network Administrator: "I have enjoyed this company a lot. It was my home. The company culture is very good."
Network Administrator: "I have worked at Acer America since 1998. It is like my family. Managers and supervisors are very supportive."
Unsurprisingly, the human interface giant Synaptics rated highly among employees for the 'human' factor. Employees reported that a relaxed and positive work culture allows the fostering of talent, with work-related social events providing great bonding time for employees.
Hardware Acceleration Algorithm Intern: "It was a perfect environment to learn, work and have fun! I had amazing supervisors and colleagues, who were always helpful and encouraging. Everybody is motivated to bring the company to great heights, celebrating every success and always trying to improve further."
Lead Systems Design Engineer: "Many good and talented people. (I enjoyed) the atmosphere of collectivism in execution tactical tasks. Rich social life, sport, cultural events."
Anonymous Employee: "The culture is relaxed but reminiscent of a start-up, which keeps things moving and exciting."
Known internationally for their affordable fashions, Ross Stores prove a solid financial footing for employees – no small task in today's economy.
Merchandise Planning Manager: "Ross is a great company to learn and grow with. They are open to new ideas and they listen to new suggestions."
Operations Manager: "If you're looking for a company that has a solid financial structure, this could be your place."
Distribution Operations Supervisor: "The future looks very bright and will continue to provide many challenges."
Offering long and short term contracting solutions, LASTH is headquartered in Los Altos. The company was highly praised by employees for its internal software training.
QA Test Specialist: "I've learned a lot working with the Los Altos Software test team. They have shown me many ways of improving not only my skill set, but my personality as well. Great team, great people."
Software QA Tester: "I enjoyed working at LASTH for past 3 years and would recommend this company as great place to make your career."
Based in Mountain View, CA, eLance is an online staffing platform whose employees report a flexible and caring internal culture that mirrors the ease and flexibility of its staffing solutions.
Business Development Manager: "Elance is a wonderful workplace. The team including the bosses is like a family. The environment is open and conducive to learning."
Evangelist: "I've worked here for 3 months: very flexible, great team and cutting edge technology market. I like the freedom to be creative, the flexible hours and company culture."
Xoriant is a product development, engineering and consulting services company based in Sunnyvale. Their confidence and assurance in their product carries over to the positive attitudes of their employees.
Website Developer: "I have worked in Xoriant Solutions as an intern and my experience has been great. The exposure and work environment helped me scale up my practical knowledge."
Senior Software Engineer: "A good company to work for if you are looking for working for well-known companies in Silicon Valley. Employee focus. Dedicated CEO. Excellent legal team."
With the world of work becoming ever-more flexible and detached from the idea of the traditional 9-5 office day, oDesk is helping bridge the work gap by providing an online work hub where professional freelancers can meet employers and collaborate on contract projects. It's virtual 'employees' couldn't be happier.
QA Tester: "oDesk is the best freelancing company where you get a chance to work when you don't want to leave your baby in a day care and continue working as well. It's been an amazing, wonderful experience to work from home. I love it!"
Javascript Developer: "I have worked for a year on this platform, I am really impressed with it."
Freelancer: "(I like the) versatility of projects and the opportunity to develop my skills and get in contact with people from all over the world."
Oakland-based Bevilacqua Knight is a technical consulting firm which specializes in bringing new technologies from lab to market. Its Manager's say that "Bevilacqua Knight is a truly excellent place to work."
Based on their rave reviews from their employees, SynergisticIT is THE place to go in Fremont for Java training. The company also scores highly for having a strong internal culture and a professional, caring management team.
Java Developer: "I had a very good experience working with them. They make sure you are placed with reputed clients. They have: Weekly skill assessment test - Professional trainers - Individual attention. Their library is also very good. They have all possible books on Java frontend and back end and DBA."
Java Developer: "My interview was the coolest. The manager was a super nice guy who kind of walked me through their project and also made me feel comfortable. It's a great place for Java training. The trainers are the best."
Java Developer: "No complaints about their training and infrastructure. Great program - awesome stipend. It was a pleasure working with them!"
Rated Number 1 on our list by its employees as having the happiest work culture in the Bay Area, INSZoom has been creating waves in the business world with its innovative case management software solutions, used by immigration law firms worldwide. INSZoom has won awards and recognition around the globe, accolades which are backed up by glowing reviews from its employees.
Consultant: "The environment is awesome, it's great to work here with supportive staff."
Technical Architect: "It was a really rewarding experience and a very niche domain. The team was very cooperative to the new changes I suggested. We did succeed in integrating the application with some of the top Fortune 500 companies in the USA during my stint."
Technical Lead: It's been a thorough bliss working for INSZOOM. They are great people with great minds. Thanks for the cordial and encouraging environment. Career growth opportunities are ample."
* * *
Other big names on the list of happiest Bay Area companies include: LinkedIn (No. 24), which earned a 3.50, Google (No. 30) with a score of 3.46, and eBay (No. 37), with a happiness score of 3.40.
/
Heidi Golledge says, "Top companies clearly understand that, even in a tough economy, their employees are integral to their success. The companies on our list each have a strong emphasis on keeping their employees happy, as evidenced by their incredibly positive reviews in all facets of employee happiness including work life balance and career growth."
Think your company should be on the list?
Post a quick company review to nominate your company for next year!
Looking for a happier job in 2015?
Start your job search now and take a look at 3.5 million happier jobs on CareerBliss!
* * *