Which are the happiest companies in Southern California? CareerBliss analyzed user-submitted data received from SoCal company employees, and compiled a list of the Top 10. If you work at one of these companies, congratulations, you've hit the jackpot in terms of work happiness! Let's take a closer look at these companies, and see what separates them from the rest – in the words of their own employees.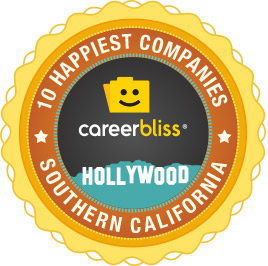 Happy Jobs in SoCal
Southern California is seen the world over as the land of opportunity, of movie stars and palm-tree lined beaches, of fast fame and million-dollar houses. The area is a major economic hub for the state of California - Los Angeles is a hotbed for the movie industry, whereas the tech industry has found a solid base within Irvine in Orange County.
SoCal stretches along the coast from Ventura to Los Angeles, through the Inland Empire and down to San Diego, containing 60% of CA's total population. Los Angeles is one of the states' most densely populated cities, with 12 million inhabitants. Nicknamed 'the Tech Coast,' SoCal has a singularly diverse technological and industrial base, solidly grounded by a legion of world-class universities and renowned public institutions. Our list of the Top 10 happiest companies in SoCal include two universities, demonstrating the region's commitment to training and educating its young business-folk and entrepreneurs.
To work out which SoCal employees are the happiest, CareerBliss looked at thousands of independent employee-submitted reviews received by our site since Jan 2013. These in-depth reviews ask employees to rank their company and working life over ten different aspects of job happiness, on a scale of 1-5. These aspects included the culture of their company, the fairness of their compensation in relation to job duties, the people they work with and the environment they work in.
Check out the Top 10 list of happiest SoCal companies below!
Ranking criteria: Companies within 95 mile radius of San Clemente (92673)
5 or more reviews posted since Jan 2013
Top 10 Happiest SoCal Companies – in Their Own Words
Here's what the employees of our Top 10 happiest SoCal companies had to say about their employers:
Anonymous Employee: "I've been working at Taycor for almost 3 years now and I couldn't be happier. I started straight out of college and since then have had many opportunities for learning and advancement. The thing I like most about Taycor is that management really takes the time to evaluate our work and will provide opportunities and rewards when we've demonstrated improvement and excellence."
Intern: "Everyone is really friendly and supportive. It's refreshing to be a part of a company that shares a common goal of not only achieving success, but making sure that they provide customers with the best quality service possible."
Credit Analyst: "Everyone in the office is very friendly and cohesive when it comes to projects. Management allows us to make our own decisions which contributes to our overall learning and growth in the company."
Commercial Sales Manager: "I like working at Balboa Capital for many reasons. It's a growing company that is recognized as a leader in commercial financing in the US. We use some of the most amazing sales tools that help us close more deals and provide our customers with responsive service. And, the management team is always there to assist me when I have questions about a deal I am working on."
Customer Service Representative: "Balboa Capital is a growing company with a great work environment that has a team of motivated and friendly people, and the management team(s) are supportive and willing to help you whenever needed."
Customer Service representative: "Balboa has a nice office environment and the people, management in particular, are very helpful and professional. It's a tip-top financing company."
Tutor: "I was hired as a tutor to work with underprivileged students with their math studies education. It was a great learning experience and very rewarding. I plan on returning next year."
Tutor: "Working with these students was of great joy that will last a lifetime. Thank you, for the opportunity to tutor and make a difference. I am so happy that I could make a small contribution to help students and make a better image of lifeand future in their mind."
Tutor: "I truly enjoy tutoring. This will now be two years of working for this company; and helping out students that are really struggling in school; this is greater than anything so far in my life. I love doing this, and I thank God for giving me the gift of helping others. I hope I can continue for the upcoming school year."
Director: "Business is good, category and brand is very strong, few approval levels for decisions. Strong leadership."
Marketing Intern: "Red Bull is a great company to work for if you love a fast-paced action-packed learning environment. Work hard, play hard!"
On Premise Sales Manager: "The culture, the people, the customers and the product made the brand stand out and created a great work environment."
Anonymous Employee: "Exciting & fun projects usually the cutting edge of science & technologies. Great work flexibility. I loved it because I was always learning and we worked with the best in the country."
Anonymous Employee: "Fun, interesting work. Always cutting edge technology. Leading the field with academia and government."
Anonymous Employee: "Greatest company working on cutting edge scientific stuff. Many years ahead of the Industry and learned a lot, great management and leadership. A lot of fun and technically challenging, working on the future up to 15 years in advance."
Anonymous Employee: "Our Vice President helped me and my team to learn, manage, implement all areas of QA across Herbalife. It is an honor to work here and be with the entire employee group. Herbalife pays really well in terms of salary, perks, and promotions."
Vice President: "It was creative, rewarding, exciting, and I loved the international aspect. Plus, there was no more grateful group than the constituencies served."
Online Marketing Analyst: "Loved Herbalife and would work for them again if the right opportunity presented itself! Great products and very modern company with inventive marketing and business tactics."
Area Sales Manager: "I worked for Edmunds.com for a few short months but loved the experience and the people I worked with and for. I could not recommend a better place or better people to work for!"
Database Release Manager: "I've been working with Edmunds.com for 6 years. It's a strong, interesting company with the latest technology. There are around 500 people in Edmunds. I really enjoyed working with them."
Technical Systems Analyst: "Great people and a company that is in touch with its employees."
Medical Director: "Excellent company for start-up business in medicine."
Graduate Research Assistant: "I worked for SDSU MEMS lab during my grad school and it was a great learning process. The best thing is that everyone is family in that place."
Research Specialist: "San Diego State University (SDSU) Combustion and Solar Energy laboratory is a great working and learning environment. We have wide range of software and powerful computers. We are allowed to use the machine shop at SDSU at any time. Professor Fletcher Miller is also a very helpful supervisor. I was lucky to work with him in his team."
Employee: "This university has a very positive working environment and prepared me for the real world. It was a great educational experience and I experienced intellectual growth working at the San Diego State University."
Student Systems Administrator: "Very friendly and professional at the same time. It's always good to be at the Beach. The work culture and environment is absolutely welcoming and no one really stresses out here. I just like everything, every day is a new challenge for me, I get to learn new things. Always trying to learn ethics from the managers and supervisors."
Student Assistant: "It has been over 14 months that I have worked for the company and I'm absolutely satisfied with the work I have done so far. The working hours are flexible, not much work pressure."
* * *
Other big names on the list of happiest SoCal companies include: Walt Disney Studios Motion Pictures Group (No. 20) which earned a 3.5, Yamaha Corporation (No. 35) with a 3.3, and Sony Pictures Entertainment Inc. (No 47) with a happiness score of 3.2.
---
Think your company should be on the list?
Post a quick company review to nominate your company for next year!
Looking for a happier job in 2015?
Start your job search now and browse 3.5 million happier jobs on CareerBliss!