CareerBliss has put together a list of the Top 10 happiest companies in Denver, as voted for by our users. We've sifted through data gathered from thousands of user-submitted reviews, tallied the scores, and posted the list below. We hope you enjoy our Top 10 list!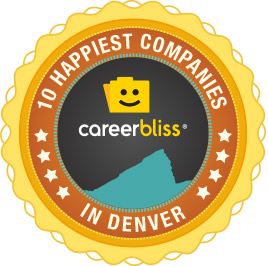 Happy Jobs in Denver
Denver is the capital city in the state of Colorado, and the second most populous county in Colorado. Denver has a gross metropolitan product exceeding $157 billion, making it the 18th largest metro economy in the US.
In the early days of the city, gold and silver played a large role in the economic life of the city, due to its location near the mineral-rich Rocky Mountains. Over the years, many well-known corporations started life in Denver, including household names such as
Samsonite Corp.
and the
Coors Brewing Corp.
Large Denver-area employers include
Lockheed Martin
,
United Airlines
,
The Kroger Co.
and
Mapquest.
To figure out which are the happiest companies in Denver, CareerBliss looked at thousands of employee-submitted reviews received by our site since January 2013. These in-depth reviews ask employees questions to help rank their company and experience of working there over 10 different aspects of job happiness, on a scale of 1-5.
These aspects include: the culture of their company, the fairness of their compensation in relation to their job duties, the management of their company and the environment they work in.
Check out the Top 10 list of happiest companies in Denver below!
Ranking criteria: Companies within 50 mile radius of Denver (80012); 5 or more reviews posted since Jan 2013.
Top 10 Happiest Denver Companies – in Their Own Words
Here's what the employees of our Top 10 happiest Denver companies had to say about their employers…
Paralegal: "I enjoyed going in to work every day. The environment was very inviting, professional and friendly."
Paralegal: "This company is very high energy and fun to work for. The people are great and the case load keeps you busy and always thinking."
Senior Software Engineer: "The company treats its employees very well and has a reputation for being very generous with regards to perks. The management is concerned with getting the job done, yet respects personal time. I have the utmost respect for all of the individuals there because they are committed to doing their best."
Programmer: "Fantastic start. The position was created for me, I had the autonomy to read the marketplace and leverage it for our collective success."
Senior Mortgage Underwriter: "I love that my work days are never the same - always changing with new challenges. I also love that I help people achieve a financial goal. I felt that the training was excellent and was provided with all the equipment required."
Senior Underwriter – "I've worked for this company twice. I really enjoyed my position there."
Research Assistant: "Being a research assistant was a great experience in my life. I learned a lot from this position, especially in the area of autism."
Anonymous Employee: "The University has provided me with different job experiences that have kept me challenged and has taught me how to manage technology needs on a very strict budget. I also enjoyed the opportunity to work with other departments on campus."
Web Developer: "The Institute for Behavioral Genetics is a world class research institute that conducts basic research in linking genetics to behavior. It provided me an excellent opportunity to create a data repository using open source tools over the period 2004 to 2013."
Anonymous Employee: "The culture here is very high and the staff here are really driven to getting their job done and are very friendly. The job is very flexible too if you are a student and are very open to letting you experience what you want to gain out of the job."
Office Manager: "I have worked at RE/MAX for over five years. It is the perfect place to learn about real estate and I would highly recommend RE/MAX for anyone that is looking to get into real estate. The people are always friendly and knowledgeable."
Office Manager: "Great environment and wonderful people to work with! Everyone was always very mindful of each other and welcoming of other people. Really good customer service and made sure not to overburden one another. I loved working there!"
Program Manager: "I love working for Lexis Nexis. It is a great place to work. The management is incredible and care about me and my growth. The work is fun. I also love the projects because they are interesting and involve lots of different challenging opportunities."
Senior Business Analyst: "The company really takes care of its employees. They focus on not only on the work but also the work life balance and even give paid time off to do community service. The work environment fosters teamwork and mutual respect among the employees. I enjoyed my time while working with the company."
Senior Software Engineer: "I've worked for CSG for over 10 years and I have really loved the company. The employees and managers are all the best and really make it a great company to work for. They are open to new technologies and will let you run with ideas."
Software Development Manager: "It is a fantastic company to work for. There are lot of talented people and very good work culture. There are plenty of opportunities to learn new things."
Anonymous Employee: "I love the AV industry. CIBER Inc. provided me with benefits which I found very useful coming from a contracting agency. I would recommend this company."
Anonymous Employee: "Small company. Good at promoting team spirit. Positive work experience."
Anonymous Employee: "I've worked at VA for nearly 15 years. The work is constant, challenging, yet very rewarding. Serving Veterans is a great honor. I've worked with some of our nation's greatest leaders - folks with various backgrounds, accomplishments, and accolades within the public and private sectors. Learning and working with them has been invaluable."
Psychology Resident: "There are not enough positive words to describe the experience, opportunities and growth in any VA system."
Think your company should be on the list?
Post a company review to nominate your company for next year!
Looking for a happier job in 2015?
Start your job search now and take a look at 3.5 million happier jobs on CareerBliss!