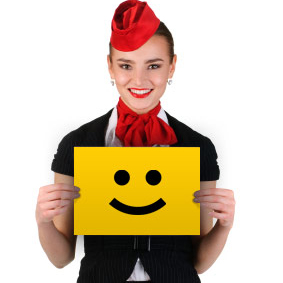 Don't wait until you're at 30,000 feet to find out whether the employees with the airline you're flying are happy. Check out CareerBliss' Top 10 Happiest Airlines before you book your flight. We think happy employees are more likely to provide a happy travel experience (you're on your own with the TSA). CareerBliss looked at more than 1,000 reviews in which airline employees gave their opinions about compensation, benefits and career advancement, among other factors, to come up with the list. Southwest Airlines claimed the top spot for a second year in a row.
"Southwest employees rank this airline as the happiest place to be in the sky," CareerBliss CEO and Co-Founder Heidi Golledge said. "The CareerBliss data offers travelers and employers a unique look at what impacts overall happiness. We found that work-life balance, senior management, benefits and career advancement were the key factors that impacted the 2011 rankings."
Top 10 Happiest Airlines
Methodology
The CareerBliss data evaluates the key factors that affect work happiness: work-life balance, one's relationship with their boss and co-workers, their work environment, job resources, compensation, growth opportunities, company culture, company reputation, their daily tasks and control over the work that they do on a daily basis. The data accounts for how an employee values each factor as well as how important that factor is to the employee's overall happiness. Each review is given an average score indicating where the company places between one and five. All assessments are derived from 2011 employee-generated reviews. For the purpose of this data – more than 1,000 independent employee reviews points were assessed. Feel free to compare this year's 2011 rankings with
last year's 2010 Happiest Airlines Rankings
.