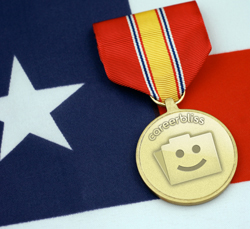 Members of the military dedicate so much time to serving us. So, we love to see companies on a mission to recruit veterans once they have completed their military service.
"We feel privileged to have these individuals who have given so much on behalf of our country find meaningful and fulfilling opportunities to contribute to our mission of delivering high-quality, affordable healthcare," says Ronald Copeland, a veteran who served as an Air Force surgeon who is now Chief Diversity and Inclusion Officer at Kaiser Permanente.
We wanted to recognize companies that are going above and beyond to support veterans as they transition to the civilian workforce. At Booz Allen Hamilton, for instance, nearly 30 percent of employees have a military background, according to Senior Associate Pamela Hardy.
"Besides skill sets and technology," Hardy says, "veterans bring enormous amount of leadership experience and skills."
Wells Fargo & Co. has recruiters trained to advise veterans on how their military skills translate into the private sector, among other programs to recruit and retain former service members.
"We are committed to hiring veterans," says Aaron Kraljev, director of recruiting at Wells Fargo. "They are a great fit for our organization because we value honesty and integrity a great deal."
In addition to efforts to recruit veterans, consulting firm Accenture has career development and support programs for former military members.
"We've found that much of what veterans learn in the military – leadership, discipline, teamwork and organizational skills – is extremely relevant to our work," says John Campagnino, managing director of global recruiting for Accenture. "A good example is our Accenture Credit Services team in Charlotte, NC, where we have employees from various branches of the military who have successfully transitioned to the private sector and now work as mortgage analysts and related roles."
To Identify more veteran-friendly companies like Kaiser, Booz Allen, Wells Fargo and Accenture, we marched through our extensive database of jobs and worker happiness info to determine the Top 20 Happiest Companies for Veterans 2013 (see our methodology below the table).
CareerBliss Happiest Companies for Veterans 2013
Methodology: To create the list, we analyzed job postings and selected companies that indicated an interest in hiring veterans in those postings. Companies are ranked based on their BlissScores, which are derived from company reviews that have been submitted by employees to CareerBliss. The company reviews assess employee happiness based on several factors, such as company culture, advancement opportunities and the work they do. BlissScores are on a scale of 1 to 5. To be included on "The Happiest Companies for Veterans" list, a company needed to have at least 20 reviews submitted between May 2012 and April 2013. You can compare the 2013 list to last year's top companies for veterans.