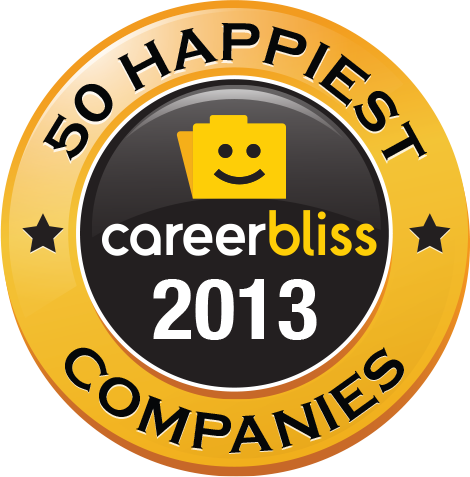 Ready for a happier career in 2013?
The CareerBliss annual Happiest Companies™ in America awards is a great place to start your job search because these companies have been voted by their very own employees as a happy, rewarding workplace.
To reveal the top happiest companies, CareerBliss analyzes thousands of independent employee-submitted reviews. The reviews ask professionals to rank how they feel about key happiness factors at work, such as the culture of the company, compensation and people you work with.
"Being able to be truly happy at work is one of the keys to being happy in life," says Heidi Golledge, CEO and Co-founder of CareerBliss. "CareerBliss recognizes companies that excel at providing happy work environments since it is a vital part of the CareerBliss mission to foster rich and rewarding work cultures for everyone." Check out the full happiest companies below!
Think your company should be on the list?
Post a quick company review to nominate your company for next year!
Looking for a happier job in 2013?
Start your job search now and take a look at 3.5 million happier jobs on CareerBliss!
*Bliss Score ranks on a scale of 1-5 and evaluates a combination of 10 key factors that impact overall workplace happiness.
Pfizer Inc., the world's largest pharmaceutical company, takes the crown as the happiest company in America particularly because Pfizer employees enjoy the people they work with and the support they get. In fact, Pfizer impressively moved up from its 11th place ranking last year to the No. 1 spot for 2013. This growth in positive reviews is a testament to Pfizer's growing, innovating company culture.
"Unlike previous years, where companies like Google and Apple reigned in the top 10 and top 20, engineering, pharmaceutical and government ranked supreme in employee happiness," Golledge says.
Job seekers, if you are unsure of where to start researching your next big career move, this list of happiest companies is a fantastic launching pad to start exploring employers that have proven to offer their employers a rewarding experience.
"Employees in all of these companies have the freedom to use their knowledge, skills, and abilities to solve interesting problems," says Bradley Brummel, Ph.D. in workplace psychology. "This type of problem solving can be intrinsically motivating and leads to a happy workplace."
To learn more about how you can be happier at work, check out our CareerBliss Career Guides.
Make sure to compare this year's list to last year's 50 happiest companies in America for 2012 along with our list for 2011.
---
CareerBliss 50 Happiest Companies Methodology
CareerBliss data evaluates company reviews for the key factors which affect work happiness, including: work-life balance, one's relationship with their boss and co-workers, their work environment, job resources, compensation, growth opportunities, company culture, company reputation, their daily tasks, and job control over the work that they do on a daily basis. The data accounts for how an employee values each factor.
Each review is given an average score indicating where the company places between one and five. All assessments are derived from 2012 employee generated company reviews. For the purpose of this data, we assessed more than one hundred thousand employee generated company reviews from 2012 to determine the 50 happiest companies of 2013.