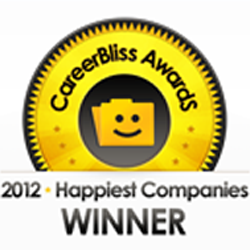 Check out the winner for the 2013 Happiest Companies list!
We're proud to reveal the winners of CareerBliss' Happiest Companies in America Awards for 2012, thanks to thousands of employees from around the country.
Of the thousands of companies nominated for this award, the 50 winners have been designated as the happiest places to work in the nation, based on their own employees' company reviews and ratings posted on CareerBliss!
CareerBliss' 50 Happiest Companies ranked the highest among their employees on the key factors that contribute to the overall happiness at work, including the company culture, the work they do, how they work and the people they work with.
Think your company deserves to win CareerBliss' most prestigious employer award? Simply post a company review on CareerBliss and tell us why you love to work at your company! It only takes a few minutes and it's completely anonymous.
CareerBliss 50 Happiest Companies for 2012
Methodology (Dec. 6, 2011): CareerBliss data evaluates company reviews for the key factors which affect work happiness, including: work-life balance, one's relationship with their boss and co-workers, their work environment, job resources, compensation, growth opportunities, company culture, company reputation, their daily tasks, and job control over the work that they do on a daily basis. The data accounts for how an employee values each factor. Each review is given an average score indicating where the company places between one and five. All assessments are derived from 2011 employee generated company reviews. For the purpose of this data – nearly 100,000 reviews were assessed to determine CareerBliss' 50 Happiest Companies in America for 2012. Make sure to check out and compare last year's 50 happiest companies in America for 2011 to this year's list.
*Bliss Rating: Overall job happiness score assigned by employees. Bliss Rating is derived from company reviews which evaluate each of the key factors that contribute to the overall happiness in the workplace.