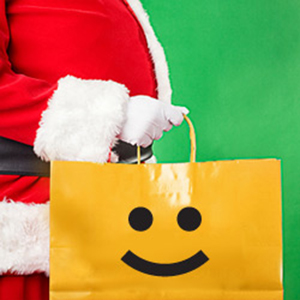 Getting pumped for Black Friday and holiday shopping? In true CareerBliss fashion, we wanted to scope out which retailers have the happiest employees! After all, happy employees means an easier, more pleasant shopping experience for you.
CareerBliss recently unveiled its annual Happiest Retailers in America for 2013 list. To determine the retailers with the happiest employees, we dug deep into our data and evaluated thousands of company reviews written by real retail employees!
"We see that companies that foster work environments that create a cohesive work unit, in-turn create employee relationships that help to improve the company culture and happy shopping experiences for both employees and customers," says Heidi Golledge, CEO and co-founder of CareerBliss.
This year, Toys "R" Us takes the reign as the happiest retailer in America! "You get the feeling you are working with family and friends. Very inclusive," says one assistant manager at Toys "R" Us in a CareerBliss review.
CareerBliss data experts analyzed the 10 key factors that contribute to workplace happiness. Check out the full list:
CareerBliss' Happiest Retailers in America 2013
*
BlissScore accounts for overall ranking of ten factors for work happiness on a scale of 1-5.
Methodology:
CareerBliss data evaluate the key factors that impact happiness at work including work-life balance, senior management, compensation, benefits, job security, whether the employee would recommend his/her employer, the work the employee does, the company culture and the employee's work environment. The submissions are from visitors to CareerBliss.com and provide insights regarding their current and previous employers.