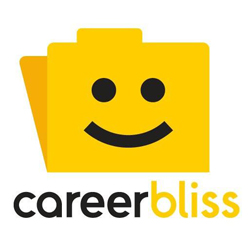 When it comes to being happy at work, perceived growth opportunity is a key factor. We want employers who encourage our professional development, and who give us room to grow within the organization. When we start feeling stuck or stifled, disenchantment and disengagement soon follow – and that's not good for you or your career.
With that in mind, we took a look at our ever-growing database of worker happiness stats in search of companies that score high for providing growth opportunities to employees.
To be included on the list, a company had to have had at least 25 reviews submitted to CareerBliss over the last 12 months. 'BlissScore for Growth Opportunities' reflects how employees ranked that factor on a scale of 1 to 5. Average salaries are based on info submitted by CareerBliss users.
20 Companies that Give Employees Opportunities to Grow
1. EMC Corp.
BlissScore for Growth Opportunities: 3.74
Average Salary: $87K
--
See EMC Corp. jobs
2. Intuit
BlissScore for Growth Opportunities: 3.74
Average Salary: $77K
--
See Intuit jobs
3. Kaiser Permanente
BlissScore for Growth Opportunities: 3.63
Average Salary: $66K
--
See Kaiser Permanente jobs
4. Enterprise Rent-A-Car
BlissScore for Growth Opportunities: 3.56
Average Salary: $42K
--
See Enterprise Rent-A-Car jobs
5. Cognizant
BlissScore for Growth Opportunities: 3.52
Average Cognizant Salary: $71K
--
See Cognizant jobs
6. Alcatel-Lucent
BlissScore for Growth Opportunities: 3.52
Average Alcatel-Lucent Salary: $79K
--
See Alcatel-Lucent jobs
7. Samsung
BlissScore for Growth Opportunities: 3.52
Average Samsung Salary: $72K
--
See Samsung jobs
8. Prudential
BlissScore for Growth Opportunities: 3.43
Average Prudential Salary: $57K
--
See Prudential jobs
9. Booz Allen Hamilton
BlissScore for Growth Opportunities: 3.43
Average Booz Allen Hamilton Salary: $89K
--
See Booz Allen Hamilton jobs
10. Bank of America
BlissScore for Growth Opportunities: 3.38
Average Bank of America Salary: $50K
--
See Bank of America jobs
11. General Electric
BlissScore for Growth Opportunities: 3.34
Average General Electric Salary: $69K
--
See General Electric jobs
12. JPMorgan Chase
BlissScore for Growth Opportunities: 3.34
Average JPMorgan Chase Salary: $60K
--
See JPMorgan Chase jobs
13. Oracle
BlissScore for Growth Opportunities: 3.33
Average Oracle Salary: $94K
--
See Oracle jobs
14. HCL Technologies
BlissScore for Growth Opportunities: 3.31
Average HCL Technologies Salary: $64K
--
See HCL Technologies jobs
15. Wells Fargo
BlissScore for Growth Opportunities: 3.25
Average Wells Fargo Salary: $60K
--
Sees Wells Fargo jobs
16. Microsoft
BlissScore for Growth Opportunities: 3.22
Average Microsoft Salary: $86K
--
See Microsoft jobs
17. American Express
BlissScore for Growth Opportunities: 3.22
Average American Express Salary: $60K
--
See American Express jobs
18. Honeywell Technology Solutions
BlissScore for Growth Opportunities: 3.20
Average Honeywell Salary: $69K
--
See Honeywell jobs
19. Robert Half
BlissScore for Growth Opportunities: 3.20
Average Robert Half Salary: $55K
--
See Robert Half jobs
20. CitiGroup
BlissScore for Growth Opportunities: 3.19
Average CitiGroup Salary: $65K
--
See CitiGroup jobs