Need some office fashion inspiration? Check out our beloved Social Media Coordinator Stephanie Schoch's stylish ensemble.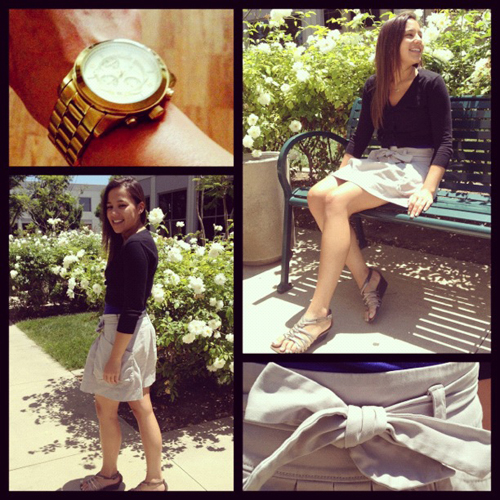 Watch: Michael Kors, bought at Nordstrom
Sandals: Steven Madden
Skirt: Martin + Osa (Defunct, but was a child of American Eagle)
Cardigan: Forever 21
Stephanie (a.k.a. the lovable voice behind CareerBliss' fabulous Facebook, Tumblr, Twitter, LinkedIn, Pinterest and Google+ *whew!*) is rocking some basic must-haves. No workplace wardrobe is complete without a cute basic black cropped cardigan.
It's perfectly paired with neutral skirt (with a belted bow detail) because it shows off the entire bottom (versus a longer cardigan that might cover up). Not to mention that it'll keep you just warm enough under the office's blasting AC!
This summer, "choose fabrics that agree with your work environment," says Raya Jaffer, fashion stylist and co-founder of ShopRDR.com. Stephanie's 60 percent cotton (40 percent modal) sweater and 97 percent cotton (3 percent spandex) skirt is super breathable!
"While fabrics like linen may be summertime favorite, they are notorious for becoming easily wrinkled, especially if you spend majority of the day at a desk," Jaffer says.
Show us your fun, fashionable office outfits!
Send a photo or collage of your personal workplace style to CareerBliss'  Ritika@CareerBliss.com to be featured on our weekly workplace fashion series!