Welcome back to Resume Tip Tuesday! Come to CareerBliss every Tuesday for a brand new resume tip to help you in your job search. Check out the archive for resume tips galore!
---

Top Tips for a Successful Visual Resume
If you work in any of the creative industries, chances are that at some point in your life, you have taken the time to create some kind of visual resume to help yourself stand out from the crowd. The main purpose of a visual resume is to encapsulate a large amount of data on one or two pages, and present it in an appealing way, so helping recruiters better digest the information by having your creative talent instantly on display.
Here are a few tips to help you create a stunning visual resume that will improve your chances at landing the job of your dreams.
Have a Plan Before You Begin
Your first step should be developing a plan for your resume, rather than designing it as you go along. Look at the content of your plain-text resume, and decide exactly which highlights of your professional life you want to display visually, and in what order. Consider removing details that aren't essential or relevant, such as common hobbies (walking, hiking, cinema) or computer competencies everyone has, such as MS Office or EXCEL – they'll only clutter your design.
Your most important section should be placed near or at the very top of your visual resume, after your name, current (or desired) job title, and contact details. Achievements you're most proud of should receive extra attention in the form of highlighted or boxed text, which is proven to draw extra attention. This is a good place to put number or data-oriented facts, such as "Boosted sales 200% in 2 years," or "Redesigned company website, increasing website traffic by 56%."
To Color or Not to Color?
Color can work well - if used strategically, and with taste. The best idea is to look online for ideas on modern color schemes for resumes, for instance, by checking out examples shown on Resume Template websites. Try to avoid going overboard and using every color of the rainbow on your visual resume, or it will be hard for the recruiter to focus.
Colored text backgrounds are usually not the best idea unless it's very light shading. While black text on a red background may look bold on your computer monitor, if the recruiter decides to print it in black and white, most of your text will instantly become unreadable. The same goes for using light colors like yellow or pink as your main text color. Stick with black text at all times unless you're really sure what you're doing and how it will look when printed out.
Think About How Your Resume Will Look When Printed
While we're on the subject, if you plan to deliver your visual resume in print, you need to design it in such a way as to fill all the available space. If you're relying on a digital version, make sure that it's easy to view on different screens – remember that recruiters like to read resumes on the go, so look at it on your Smartphone as well as on a computer screen.
A scrolling infographic is a good safe option, but we've seen many examples of excellent landscape-oriented resumes that fill the screen perfectly and look really good online, only to print poorly with page parts cut off or missing altogether. Saving your visual or infographic resume as a PDF can eliminate many problems that happen when a Photoshop or WORD document is displayed on a computer with different versions of that software installed.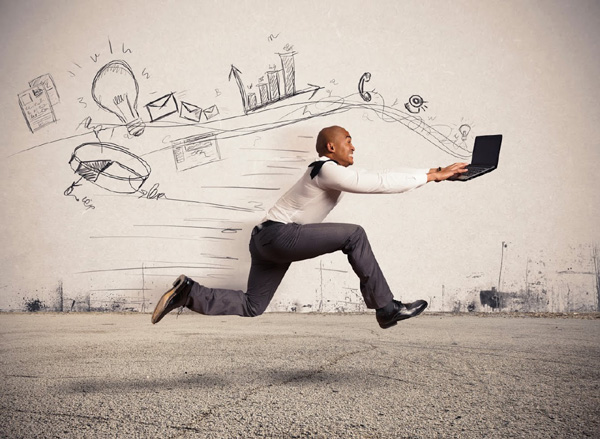 Choose the Right Creative Software
For creating your first visual resume, Adobe Photoshop is a popular choice if you have some graphic design experience, but Adobe Illustrator isn't a bad choice either. The only problem is that both are relatively expensive and require at least a year of experience for proper use.
You can look online for cheaper alternatives, such as Wordle or Tagxedo. These both allow users to visually play with the text, and are perfect for you to use if you don't have amazing design skills. Gliffy can work for you as well – it's intuitive to use, and you can add various elements in a simple drag and drop interface.
Don't Forget to Add Your Contact Details
This is the single most common mistake made by professionals who opt for visual resumes. Becoming over-focused on the graphic design is an easy way to forget to include basics such as your contact details! Even if the resume is perfectly organized, readable and attractive, recruiters will still need to find a way to contact you – just add your email and phone number at the top, and you'll be on the safe side.
Many people assume it will be obvious to the recruiter what their email address is, seeing as they emailed the resume to them in the first place. But don't be caught by this trap. The first thing a recruiter will do when they get your email is to download your attached resume into a folder on their computer, and very likely delete your original email. If your contact details aren't on your resume, many recruiters will not bother to go back and dig through their (usually overloaded) INBOX to get your email address. They will simply sigh, hit delete and move onto the next resume.
The Issue of Readability
When it comes to visual resumes, another common mistake is not making readability the #1 focus. Many people think that having an attractive design is enough to win them points – when the truth is that your visual resume must be functional, not just pretty. A cluttered layout, unclear structure, dark backgrounds or unreadable lettering won't work in your favor under any circumstances, no matter how brilliant the actual content of your resume may be.
Before jumping head-first into your first visual resume, make sure you have a creative person by your side (or contactable by email) to guide you through the process. Even if you are an experienced graphic designer, errors can easily creep in and you may become 'word-blind' if you read your resume over too many times. By having a second set of eyes look at your design before you send it off, you'll be well on your way to creating a professional-looking visual resume and hopefully landing your dream job.
ABOUT THE AUTHOR 
Kelly Smith works at CourseFinder. She's interested in new online marketing and branding tools. She's keen on work-life balance and healthy work environments.