Welcome back to Resume Tip Tuesday! Today's guest post is by Online Resume Builders. Come to CareerBliss every Tuesday for a brand new resume tip to help you in your job search!
---

Your resume is your opportunity to sell yourself to an employer. It is a space for you to share all of the information that makes you a viable candidate, and also your chance to say why you are better than the hundreds of other individuals who may also be applying for the same job.
That is why you simply cannot afford to make any mistakes. You're not only trying to convince the employer that you're a top talent – you're also trying to show that you have more talent than the 100 other people out there who applied for the same job. If you make any mistakes in your resume, proving that you're the best candidate becomes more difficult.
Top 5 Common Resume Mistakes Worth Fixing Right Now
Some resume mistakes are difficult and time-consuming to fix. But some mistakes are both very common and very easy to fix. These mistakes should be dealt with immediately, so that your resume is ready to make an impact.
Here are our top 5 most easily fixed resume mistakes: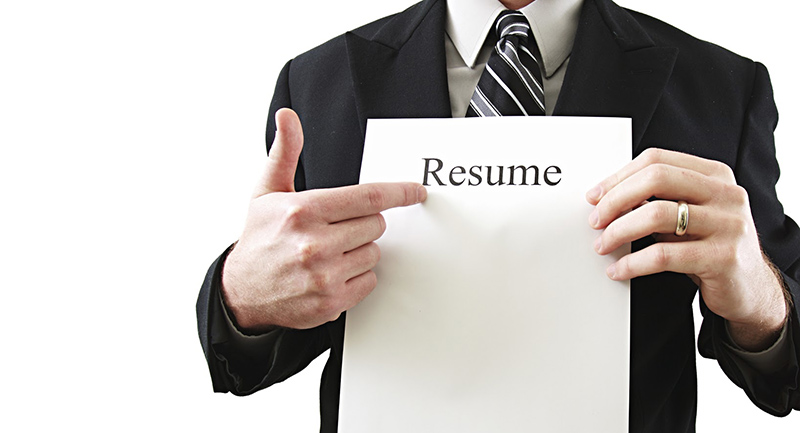 Mistake 1: Sending Resume in the Wrong File Format
You should always follow the company's exact instructions when you come to submit your resume, so make sure you read the job advert carefully. Some hiring managers use applicant tracking systems (ATS's) that only read one type of file format, which is often .doc or .docx. If you upload your resume as a .jpg or a pdf, your resume may be ignored by the system.
However, when no applicant tracking system is used, submitting your resume in PDF format is highly recommended. This is because hiring managers are often multitasking when reviewing resumes. It is all too easy for them to accidentally press a button on their keyboard, which creates a spelling error or deletes text in your editable Word document. They may then save that mistake into the document and then believe that the mistake originated from you.
Using the PDF format also ensures that your font selection opens cleanly. Make sure you do not use Single-Image PDF. You want hiring managers to be able to select your text, but not edit it.
So always check and see if the job advert specifies which file format to use for your resume - otherwise stick to .doc (and .docx) for jobs likely to use applicant tracking systems, and .pdf for smaller companies that may not.
Mistake 2: Fix Your Unprofessional Email Address
Personal email addresses can seem unprofessional when used for a job application. Puns based on your name (JohnTopOfIt@email.com), random numbers (j0hn.smith1234@email.com), or anything silly/ quirky (AnyoneSmellThat@email.com) are all unprofessional. In addition, using the email address of your current or previous employer may raise questions about your current availability for work, or your ethics.
If your email address still ends with @aol.com, @hotmail.com, @netscape.net, a college email address, or any of the other "old school" email address suffixes, you could create a bad first impression by clueing the hiring company in on the fact that you are behind with the times. Make sure your email address is well-chosen and professional. You can always create a free Google or Gmail account in order to craft a customized and disposable email address, which you only use for job applications.
Mistake 3: Talking About Your Incredible Golf Skills
It wasn't too long ago when the 'skills' section of the resume was dedicated to hobbies, used to share riveting information about you such as the fact that you golf or that you're an avid reader who also enjoys long walks on the beach.
Those days are long gone. Any 'skills' or 'hobby' section should be taken off your resume immediately, and replaced with something more impressive, such as job related certifications, or 'LinkedIn'-style personal recommendations from your former boss or manager.
Mistake 4.0: Thinking Your GPA is A-Okay
It can be tough to write the 'education' section of your resume, especially if you don't have a lot of education. But unless you are recently out of school and have an outstanding GPA (above 3.8), there isn't really anything a good GPA tells the employer that proper spelling and grammar do not already demonstrate.
It is tempting to believe that your 3.4 GPA is worth mentioning in your resume because it will "beat" someone whose GPA is 3.3 or less, but most people who have low GPAs will leave their GPA off the resume altogether, and that may even give the impression that your grades are worse than theirs.
Mistake 5: What's Your Objective?
Does this sound familiar: "My objective is to obtain a position working hard for your company, and hopefully you don't think my objective statement is boring." Objective statements don't have to be a snooze-fest. Not only are most applicants replacing their objective statements with professional summaries, but it's possible to write an objective statement that proclaims an actual objective.
For example:
OBJECTIVE: "To obtain a position in a growing startup, where my experience with CRM software, B2B sales, and rapidly scaling organizations will make a direct impact on company revenue, as demonstrated by my prior experience, detailed below."
And Finally – Remember that Everyone Makes Mistakes
When you are competing with hundreds of other applicants, every mistake you make can potentially lose you the position. That is why it is beneficial to take the time now to perfect your resume and make sure it's free of errors. The better your resume is, the better chance you'll have of winning that dream job.
---
For more information, check out our free resume builder or visit us at http://onlineresumebuilders.com to find out more. Tune in next Tuesday for more great resume tips - same time, same place!