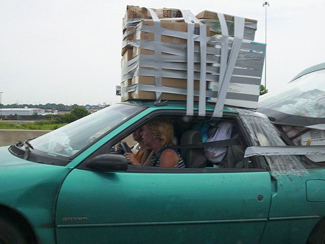 Happy tax season! If you have recently moved for work, make sure you're milking tax deductions on moving expenses.
Stacie Banks, vice president of finance at Atlas Van Lines says one of the most common mistakes is neglecting attention to detail.
"In order to determine if your move qualifies, you need to have all the details on hand from the distance to the timeline of the move," Banks says.
[8 Questions to Ask Yourself Before Moving for a Job]
Atlas Van Lines provides these tips for determining if you can deduct expenses related to moving for a job:
Who Qualifies for the Moving Expenses Deduction:
Even if you don't file
an itemized return
, you may be able to deduct moving expenses if your move meets these three conditions:
Move Related to the Start of Work -- Generally, you can deduct moving expenses incurred within one year from the date you first report to work.
Distance Test -- You may qualify for a deduction if your new job location is at least 50 miles farther from your former residence than your old job. For example, if your previous job was located three miles from your former residence, your new job must be at least 53 miles from your former residence. (See Federal Tax Form 3903 to see if you qualify.)
Time Test -- You may qualify for a deduction if you work full-time for an employer in the general vicinity of the new job location for 39 weeks during the 12-months following your move. This condition is waived if you: 1) cannot satisfy it because of death, disability or termination for reasons other than for willful misconduct, and 2) it is reasonable to expect that you would have otherwise fulfilled the condition. The IRS offers more info
Deductible Moving Expenses:
The cost of shipping your automobiles and boats
The cost of transporting your household pets, including dogs, cats, tropical fish, etc.
The moving related cost associated with connecting and disconnecting utilities
The cost of moving your personal belongings from a place other than your old residence (such as a summer home or relative's home), but not in excess of what it would have cost to move them from your old residence
The family trip to the new residence is deductible — this includes lodging but not meals