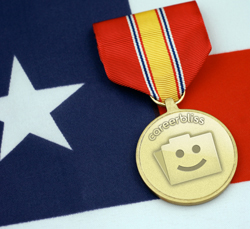 Members of the military do so much for us, so we thought it was a good idea to salute the companies that go above and beyond when it comes time for veterans to join the civilian workforce.
Check out CareerBliss' Top 10 Best Companies for Veterans:
1. Dell: One of the world's leading suppliers of personal computers, Dell employs some 100,000 people across the globe.  Dell offers jobs in a variety of specialties, including sales, engineering, marketing, IT, operations and software, among others.
2. Sprint: With more than 55 million customers, Sprint Nextel Corporation is a major player in the telecommunications industry. In 2011, Sprint had more than 40,000 employees in sales, corporate, technology and customer service functions. Sprint has been honored several times as a military friendly company by G.I. Jobs magazine.
[Vet Shares Insights for Moving to Civilian Workforce]
3. 3M: 3M has a repertoire of more than 55,000 products – including the famous Post-It note. 3M has a presence in several markets: consumer and office; display and graphics; electro and communications; health care; industrial and transportation; and safety, security and protection services. About 80,000 people have jobs with 3M.
4. Microsoft: Of Windows fame, Microsoft is a multinational company that develops, manufactures, licenses and supports a variety of computing products and services. Microsoft has about 90,000 employees. The company has the We Still Serve community aimed at helping veterans transition to the civilian workforce.
[5 Resume Tips for Vets Transitioning to the Civilian Workforce]
5. Verizon Communications: A broadband and telecommunications company, Verizon Communications employs nearly 200,000 people. Verizon was named a military friendly company for 2012 by G.I. Jobs magazine. Seven percent of new hires in 2011 were veterans, according to G.I. Jobs.
6. Bank of America: Among the biggest companies in the U.S.. Bank of America is a multinational banking and financial services corporation. B of A reports to actively hire veterans, reservists and the spouses of service members. Bank of America was honored by G.I. Jobs magazine this year as one of the top 100 military friendly employers.
[5 Challenges Ex-Military Job Seekers Face and how to Beat Them]
7. General Dynamics: One of the  world's largest defense contractors – known for developing the F-16 Fighting Falcon jet -- General Dynamics has some 90,000 employees, thousands of which, according to the company, are veterans. General Dynamics describes itself as "military friendly."
8. American Red Cross: A not-for-profit organization, the American Red Cross provides disaster relief and other services across the U.S..  The American Red Cross has been recognized for its efforts to recruit, train and retain members of the military.
9. Lockheed Martin: Lockheed Martin is a major defense contractor, working in aerospace, defense and security. Lockheed, which has about 123,000 employees, reports to have a commitment to helping veterans transition successfully into the civilian workforce. In addition to making CareerBliss' list of top companies for veterans, Lockheed Martin has been honored eight years running as a military friendly company by G.I. Jobs Magazine.
10. Intel: The leading producer of computer chips, Intel Corporation microprocessors power more than 80 percent of the world's computers. Intel has more than 80,000 employees and actively recruits Military veterans and National Guard Members.