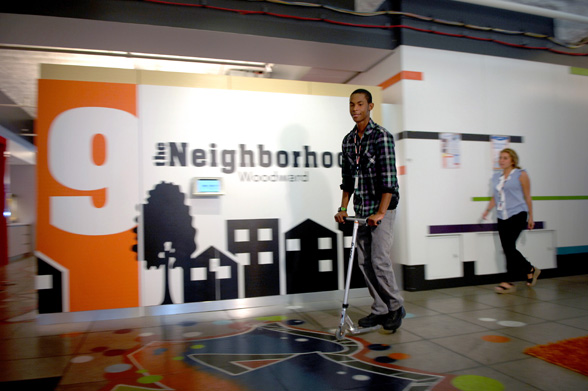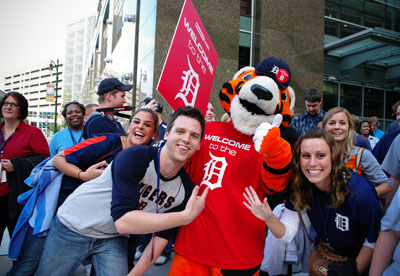 Quicken Loans is among the top five mortgage lenders in America, and is the No. 1 online home loan provider. The culture at Quicken Loans is shaped by the company's "ISMs" – its set of values, such as simplicity is genius and do the right thing – and a dedication to work-life balance.
Quicken Loans employees enjoy the open communication, great benefits, cool workspaces and the freedom to innovate. Big wheels and razor scooters transport employees to the basketball court, game room or cafe and work-life balance offers a full range of onsite amenities that include doctors, childcare, massage and salon.
Quicken Loans CEO Bill Emerson on the Quicken Loans culture:
"Our dynamic culture ignites creativity, curiosity and collaboration among our team members and provides inspiration on a daily basis," says Quicken Loans CEO Bill Emerson. "It is more than the perks and benefits that define Quicken Loans; it is the commitment of each and every one of our team members looking for opportunities to improve themselves, our company and the client experience."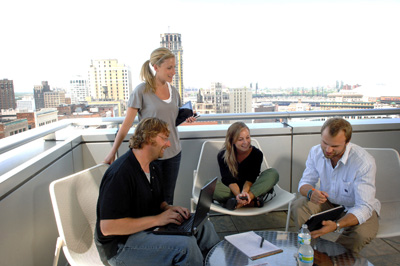 Here's what Quicken Loans told CareerBliss about its Culture:
We know success is not built on one big idea. True, lasting success is a result of finding the inches – the small, seemingly insignificant things that, when combined, make the difference between the status quo and amazing. Our culture is built on a series of principals we call our ISMs. The ISMs focus on who we are and define every decision that is made at the company.
Our ISMs aren't just a typical list of rules, but rather a group of ideals we try to live out every day.
Always raising our level of awareness.
The inches we need are everywhere around us.
Responding with a sense of urgency is the ante to play.
Every Client. Every Time. No Exceptions. No Excuses.
Obsessed with finding a better way.
Ignore the noise.
It's not about WHO is right, it's about WHAT is right.
We are the "they".
You have to take the roast out of the oven.
You'll see it when you believe it.
We'll figure it out.
A penny saved is a penny.
Numbers and money follow, they do not lead.
We eat our own dog food.
Simplicity is genius.
Innovation is rewarded. Execution is worshiped.
Do the right thing.
Every second counts.
The Benefits and Perks of Working at Quicken Loans
We work hard and play hard. Here at Quicken Loans we believe in putting in hard work to achieve great things. However, we also believe in balance. Not a work/play balance, but simply a life balance. Beyond our extensive health, vision and dental plans, we offer our team members disability, critical illness insurance and life insurance. Our benefits include a Hyatt Legal Plan, automotive, homeowners' insurance, and even pet insurance. To this end, we offer paid vacation time, sick days, floating holidays and even paid time off to volunteer!
Here are a few other ways we work to maintain balance: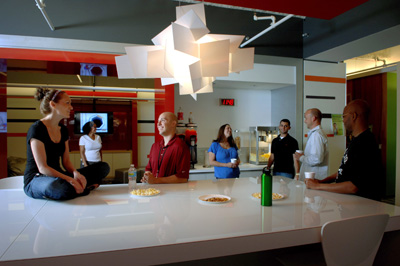 All-Company Party: We have an amazing all-company holiday party. The holiday party caries a special theme each year and has live performers that fit the theme. We also have a Halloween party, "Q-Boo." Our annual Oscar-style awards show, the Gilberts, honors the accomplishments of our team.
Performance-based and merit-based incentives: Our team members receive generous merit increases and performance-based bonuses. Last year, more than 90 percent of our non-commission team members received some type of merit bonus.
Free trips: Our team members have opportunities to win trips to great places like France, Ireland, Puerto Rico, and more!
Wellness:  In an effort to support our team member's wellness, we recently supplied our offices with walking workstations. This is a treadmill that is equipped with a laptop docking station and phone.
Onsite amenities: Some of our on-site amenities include childcare, fitness center, café, massage therapist, physical therapist, family doctor, salon, eye doctor and chiropractor.
Education:  We want to support our team members if they choose to continue their education, so we offer tuition assistance to those who are eligible
The Coolest things about a Job at Quicken Loans
Open Communication: If you have an idea or a way to improve a process here at Quicken Loans, share it – and then make it happen. It is the only way to do things in an organization with the ISM "Innovation is rewarded, execution is worshipped. Quicken Loans is proud of its flat structure, and proof of it shines in all that we do. In fact, we don't have "employees," we have team members, and we don't have "bosses," we have team leaders.
Great Perks: Being a team member at Quicken Loans and the family of companies means that you're part of a company that has constantly been recognized as a top place to work. In fact, Quicken Loans ranked in the top-10 of FORTUNE magazine's "100 Best Companies To Work For" in 2012, and it has ranked in the top-15 of Computerworld magazine's "100 Best Places to Work In Technology" for seven years in a row.
Freedom to innovate: Just like open communication, we provide the tools and encouragement necessary for implementation of idea. In fact, it is one of our ISMs, or the foundation of our culture, is "Innovation is rewarded. Execution is worshipped", which means that not only do we encourage new ideas, but praise those that take it a step further and take the steps necessary to implement it.
Great workspace: Our team members have a collaborative, open and colorful workspace. We want our workspace to represent how truly creative our team members are. Our walls are covered in bright colors, huge posters (from our sister company Fathead), dry erase paint (think about just writing all over the walls!), scratch and sniff wallpaper (Willy Wonka-inspired) and inspirational sayings.
We strive to make coming to work fun, with free slushies, popcorn, coffee or cappuccino. Team members and can zip over to a meeting on a big wheel bike or Razor scooter. If team members need a break, we have ping-pong tables, foosball tables, Xbox games on 3D TVs, as well as board games. We even have a half-court basketball court in the middle of our office space.  Formal dress code policies are too bureaucratic for us, and simply are not who we are.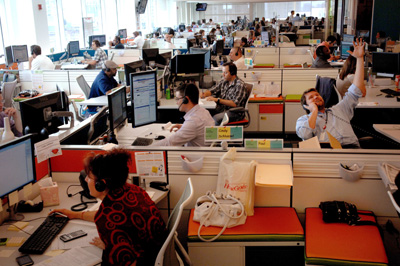 What Quicken Loans Employees have to Say
"I like the fact that Quicken Loans allows me to have a life balance. If I need to take time off I can, and my team members are always willing to lend a hand if I need some help." –Kyle
"Coming in without much experience, I thought it was amazing how helpful my team members were. The people around you every day are all working towards the same goals, and want to help you reach yours." – Jake
"I love looking out the window and watching the revitalization of Detroit happening right in front of my eyes. It never hurts to be able to catch a few innings of a Tiger's game on my lunch, either." – Jordan
A Career at Quicken Loans
Our team is creative, collaborative and dynamic. The organization is full of risk takers who understand that with great risk comes great reward. To be a team member at Quicken Loans, you need to bring something unique to the team. Having the ability to meet the job at hand is not enough. We are a passionate company, and we want passionate people to work here.
When looking for future team members, we do not necessarily hire those with direct experience for the position, but rather those with a willing to share ideas, foster creativity and learn from mistakes. It is far more important to us that the prospective team member fit our culture rather than match a job description. Quicken Loans has become an industry leader through loyalty to our ISMs, and in order to continue our quest for providing the best customer experience possible we need team members who believe in the ISMs as much as we do.