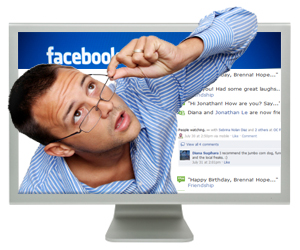 We asked members of the CareerBliss community if they would give a prospective employer their Facebook password if asked.
The nearly unanimous response:
heck no! Invasion of privacy.
Of the 5,705 people who took the poll, however, about 57 said they would hand over their PW, only if they were desperate for a job. None of the respondents chose: sure. What's the big deal?
Despite the hysteria whipped up by an article about employers demanding passwords from candidates, most people will probably never face that situation, says Alison Green, an HR type and author of the Ask a Manager blog.
The real threats to job candidates' privacy are credit checks, requiring a social security number early in the process and demands for candidates' salary history, Green writes in a recent post on U.S. News and World Report's On Careers blog.
Whether it's likely to happen or not, the mere idea that job candidates could be asked to hand over social media passwords was enough to enrage a lot of people.
Here's what some members of the CareerBliss community had to say:
"God no. As far as I'm concerned, a company has no business going through someone's personal accounts. They can look at the public section if they want to know anything about me, but I'm not comfortable giving out passwords to anybody -- employers or not." –
Nikki0417
***
"Many employers are already over-reaching. I have often been asked strange things during job interviews. Many questions that have nothing to do with the job." –
Hudsonpoint
***
"They can go to the public section of any social media I have. I would not give them my PIN number to my bank card, or my password to my investment accounts either." –
gnac
***
"I don't have a Facebook account for this very reason. I do not feel that the information is truly private nor secure. I would tell a prospective employer that I have a LinkedIn account as it will list the same things as my vitae and the collection of colleagues and resources I have at my fingertips." –
MeganM
***
"I would not see any reason to give out my password to anyone. They could check out my public profile. There are many ways of contacting prospective employees, and giving away a password is not reasonable." –
Ac042606
***
"Honestly I am torn. I feel like most jobs should not ask this. However if you are being paid over 6 figures than most likely you work with stuff that should not be discussed outside of work. So this would be a way to assure you are not discussing this stuff and try to contain leaks." -
Ninjonxb