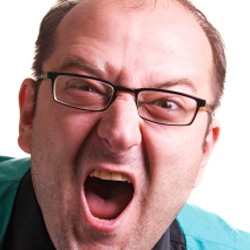 Forget about trust exercises, off-site bonding sessions and company picnics – nothing brings coworkers together like a healthy hatred for a bad boss.
Now we don't think all bosses are bad. Let's get that out of the way now. We believe there are plenty of good ones out there who do their fair share, go to bat for their employees and  are worth trying to impress. The management material here at CareerBliss, for instance, is top shelf all the way (and they do throw great parties. Really – way better than any paltry, anemic affair that passes for a celebration at your workplace).
But sometimes it seems that for every good boss in the world there are three bad ones. And "bad" is a broad term, so we broke it down a bit and asked CareerBliss users about the worst type of bad boss they've ever had.
The most reviled boss type was the micromanager (who we lovingly called the control freak) – with a third of respondents choosing it as the worst.
As one respondent, Rose, commented: "No one wants to be micromanaged and treated like a child in the workplace."
Linda, another respondent, had a bad boss cocktail: "The incompetent person was also a control freak, mean, disorganized and hell to work for."
Sorry, Linda. Hope you've found a better job.
Carl, who also commented on the poll, brought to our attention a bad boss type that we hadn't even considered: the framer.
"A Framer concocts some impossible or ill-advised goal that his victim is expected to perform," he explained. "When reality or professionalism prevents that performance, the framer then blames his victim and forces him out. With the victim gone, the framer can then exert greater control over the remaining staff, filling the victim's position with the Framer's incompetent buddy or relation."
Wow. The framer sounds like a real piece of … work.
Here's the full results of CareerBliss' less-than-scientific bad boss poll:
What's the Worst Boss Type You've Ever Had?
34%: Control Freak
22%: Incompetent
13%: Scapegoater
13%: Screamer
11%: Absentee
7%: Credit Thief