The critically acclaimed series "Mad Men" is one of the best, most powerful workplace fashion inspirations in pop culture today.
Fashionistas and designers everywhere –from Banana Republic to Michael Kors and Brooks Brothers — are going mad about "Mad Men!" The collections feature time-inspired pieces that are classic, polished and powerful.
Take it from Joanna Coles, editor-in-chief of
Marie Claire
: " 'Mad Men' shows you how to look great in the workplace and it shows you how to work it," Claire tells
Associated Press.
For those of you who want to classy it up at the workplace — and maybe feel more confident — it's time to suit up! Tap into your inner Don Draper or Peggy Olson, and get inspired.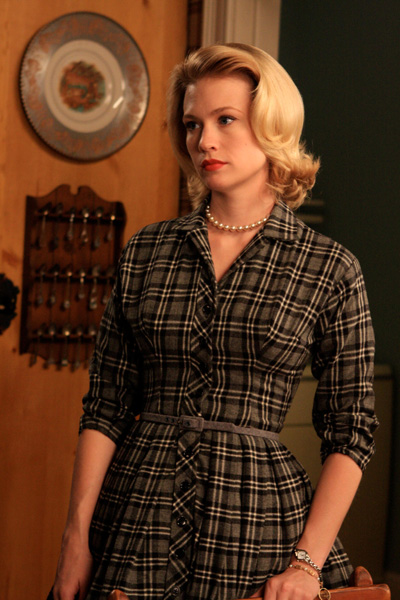 Betty Draper pairs an unlikely match: classic pearls with crisp plaid. Her thin belt gives shape to the dress.
"Those women understood that fitted clothing looks best on them. It accentuates their assets, if you will," "Mad Men" costume designer Janie Bryant tells Kansas City Star.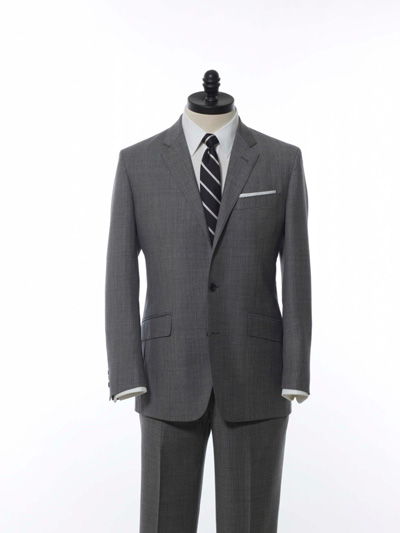 This is the Exclusive Edition Brooks Brothers Mad Men suit for none other than Don Draper — but you don't have to break the bank for this spiffy suit. Just look for thin lapels and well-matching, muted ties for a classic, crisp look on special occasions.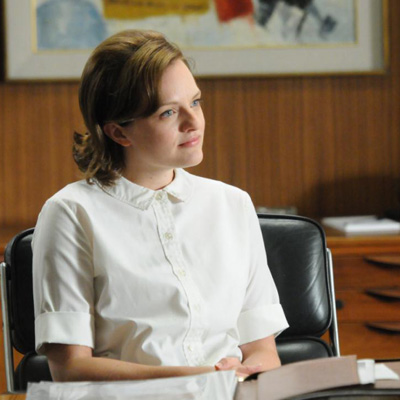 The Peter Pan Collar (or flat, round-cornered collar) is back – It started in the 1950s, and remains to look polished and feminine today and on Peggy Olson here. Try not to pair it with sweater and skirt to avoid the schoolgirl look.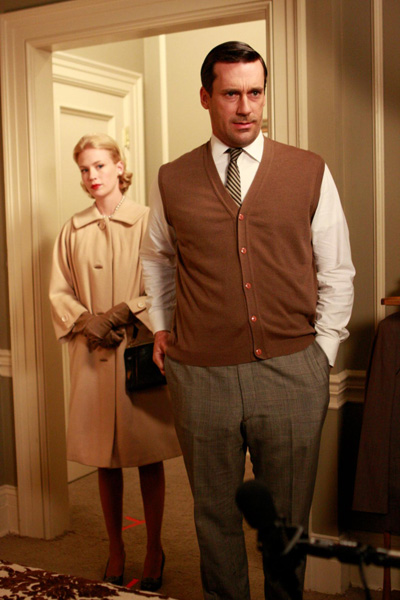 For business casual, you can't go wrong with sweater vests! Chandler Bing may have ruined it for you in the '90s – but Don Draper sure enough brings them back in style!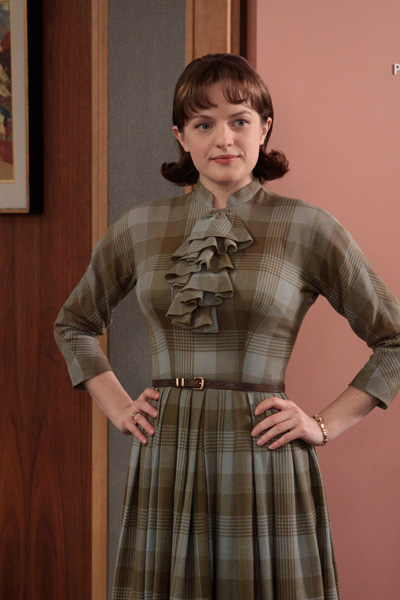 Peggy Olson rocks a fitted plaid dress, similar to Betty Draper's above—this time with a ruffled detail. The thin belt strikes again to those shape curves.
Photos courtesy of AMC