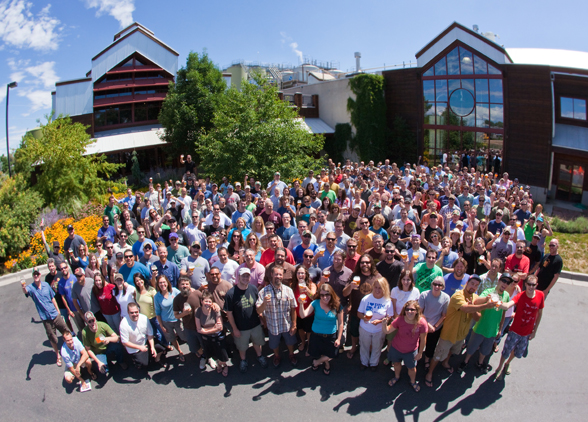 New Belgium Brewing began more than two decades ago with a bike ride. In 1989, founder Jeff Lebesch rode his mountain bike through Belgium, brewery by brewery. It was on that trip that New Belgium's popular Fat Tire Amber Ale was conceived.
Today, New Belgium Brewing, established in 1991, is one of the largest craft brewers in the U.S. The award-winning company -- named one of the 50 best places to work in 2008 by Outside Magazine – has a culture based on family, fun, giving back and being eco-friendly.
In fact, New Belgium switched to wind power in 1998; uses energy efficient brewing techniques (including utilizing brewing byproducts); and has handed out more than $5 million in grants to nonprofits.
"We take great pride in serving as a business role model through our culture, how we operate as a company and our commitment to the environment and nonprofits," says HR Director Jenny Briggs. "We are devoted to making New Belgium a place where co-workers enjoy what they do, feel empowered to do great work and make a difference not only for our company, but their community."
Here's what New Belgium Brewing told CareerBliss about its culture:
One of New Belgium Brewing's published core values is Having Fun, which translates in a variety of ways throughout the organization. On a coworker's first anniversary, he or she receives a brand new cruiser bike, which symbolizes many things that New Belgium stands for, not the least of which are fun and sustainability. At the same time, they become eligible for ownership of the company and are able to participate in a leading-edge Employee Stock Ownership Plan (ESOP). After five years with the brewery, co-workers take a group trip to Belgium, where they have the opportunity to learn about and enjoy Belgian beers and culture.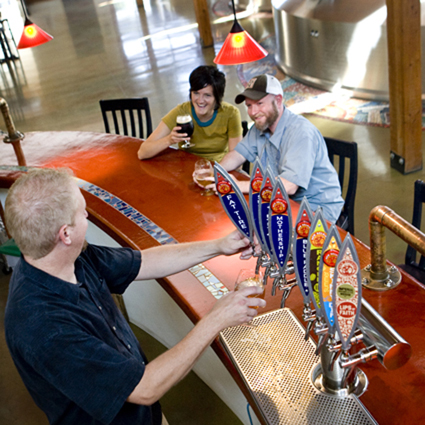 The Coolest Things About Working at New Belgium
New Belgium coworkers enjoy open-book management, a policy of fiscal transparency throughout the company. Owner and CEO Kim Jordan believes that giving employees ownership and that opening the books encourages a community of trust and mutual responsibility. Outside Magazine has named New Belgium a "Best Place to Work" and the Wall Street Journal gave New Belgium the "Winning Workplace's Top Small Workplaces of the Year" award.
In addition to a commitment to employees, New Belgium is also a member of 1% For the Planet, which means that, through donations and fund-raisers, 1 percent of New Belgium's revenue goes to environmental nonprofits. Co-workers from across the brewery are invited to join the philanthropy committee, which reviews charitable opportunities and awards funding.
Add to that a free shift beer, an open door policy toward pets, an indoor swirly slide, on-site recycling and much more for all coworkers and you've got a sustainable culture with tremendous retention.
A Career at New Belgium Brewing
New Belgium fosters an environment where coworkers are encouraged to bring their best selves every day. As employee owners, there is an emphasis on thinking and acting like an owner. This speaks to the rights and responsibilities of ownership and creates an environment where everyone feels engaged and is operating at a very high level, no matter what their day job might be.
Also, free beer.
There is no typical New Belgium coworker but there are cultural ties that unite. Most if not all coworkers subscribe to the idea of creating a world-class beer in an environmentally-friendly fashion. We strive to brew beers that are unique and interesting while fine-tuning our process to minimize impact. We are cyclists, poets, musicians, cowboys, Moms and Dads, families and friends.
We have a relaxed, laid-back culture where people are able to get their work done in an environment that fosters creativity and sharing. Our office spaces are open, so that ideas are easily shared and collaboration can happen spontaneously.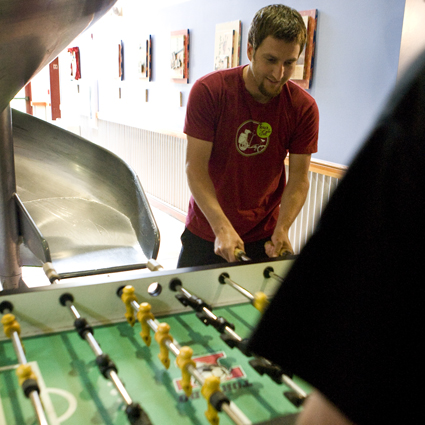 The Benefits and Perks of Working at New Belgium Brewing
New Belgium believes in fitting folly into the day and offers onsite yoga, a volleyball court, climbing wall, indoor slide, foosball table and ping-pong. To honor the commitment of its co-workers, a New Belgium cruiser bike is awarded to co-workers on their first anniversary of employment. After five years of working with the company, co-workers enjoy an all-expense paid pilgrimage to Belgium to learn more about Belgian beer culture. New Belgium also matches volunteer hours by offering one hour of paid time off for every two hours spent volunteering.
What Belgium Brewing Employees Have to Say
"New Belgium taught me how to read a spreadsheet as an employee-owner and understand finance in a much better way. As a result, I was able to better understand my personal finances and purchase my first home." – Doug Miller, warehouse
"I love the fact that I have flexibility in my schedule and that I feel great creative freedom in my work." – Jodi Taylor, art director
"When I walk into work each morning I know that I am expected to bring my best effort and that I'll be set up for success. Every one of my co-workers has my back as I have theirs and that makes you rise to the occasion every single day." – Bryan Simpson, marketing
Recognitions
WorldBlu list of Most Democratic Workplaces™ 2011
League of American Bicyclists Platinum Bicycle-Friendly Business Award
Outside Magazine's Best Places to Work
EPA's Green Power Award