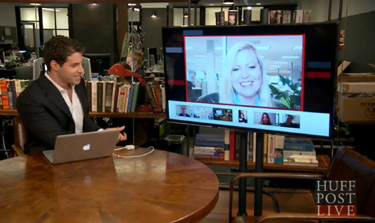 The Huffington Post this week invited CareerBliss CEO Heidi Golledge to chat about how  the job of associate attorney ended up as the unhappiest job in America for 2013.
The ranking is based on thousands of reviews submitted by real employees.  Associate attorneys "felt that the culture, the growth, the amount of hours they put in, it just wasn't what they expected," Golledge says. "I don't think it's what they spent seven years of schooling for and the loans they have coming out to it. They're just not happy once they get to work."
Heidi was happy to contribute to the discussion, led by Huffington Post's Mike Sacks, in an effort to help young attorneys "free themselves from the golden handcuffs."
These are just a few key takeaways from Golledge's discussion, just in case you missed it:
"Money Doesn't Buy Happiness"
Among the other jobs that were ranked, the unique thing about associate attorney is that it is the only job that fell below a 3 BlissScore on the CareerBliss happiness scale of 1 to 5, Golledge noted.
The other unique thing is that associate attorneys "are the only ones on the list that have the potential to make more than six figures," she says.
The Duplicate, Drudgery Work
There's no denying that legal work requires tons and tons of repetitive, dry work -- closing case after case and reviewing documents after documents.
Smart, bright "young attorneys feel like they've paid their dues, mentally and also financially, and they are still are doing drudgery work."
Shannon Forchheimer from But I Do Have a Law Degree agrees and adds that it's also the billing model. Large firms don't give you the option of less hours for less money.
It's Okay to Leave the Law
There's a strong fear associated with leaving the profession once you're in it, the group mentioned.
"You want to keep this identity as a lawyer, but you're working so hard that you can't even share and celebrate the identity," Casey Berman from Leave Law Behind.
Kelly Newsome, former corporate attorney agrees with both Berman and Golledge about overcoming the lawyer identity as the biggest fear and challenge. "You heard the word lawyer since you were 10…you grow up and this is your identity," Newsome says.