Welcome back to Work Tip Wednesday! Come to CareerBliss every Wednesday for a brand new work tip to help you build your career.
---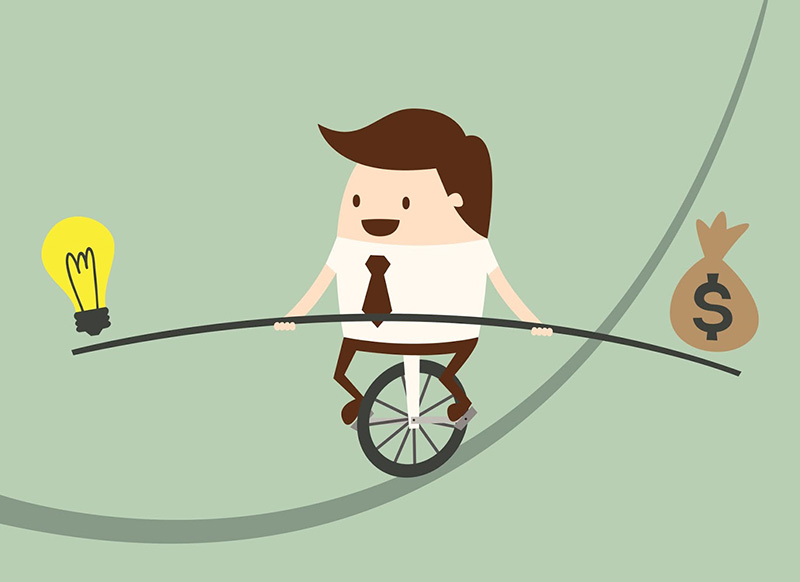 For many of us, one of the biggest workplace challenges (and probably one of the most nerve-wracking), is asking our boss for a pay rise. With the state of the economy being what it is, most of us have probably been told at one point or another, "you're lucky just to have a job!"- even if our pay isn't quite what we'd like it to be. As workers in a depressed economy, we're all too often (erroneously) made to feel that the mere act of asking for a pay raise is some kind of indication of greed, like asking for extra sprinkles at the ice-cream bar. Since we already have something so great, we may be made to feel, isn't it bad form to ask for something more?
No wonder, then, that so many of us shy away from the issue, preferring to carry on in our jobs while also carrying around a sense of injustice, struggling to manage on the same salary while prices inexorably rise, rather than tackling the matter head-on.
Do You Know What You're Worth?
The art of planning and carrying out a salary negotiation is a crucial career skill which will assist you throughout your working life, so it pays to give it careful attention. You will almost certainly have taken the time to do some detailed research into the current salary market before your job interview. So make sure you apply the same scrupulous care and planning to this negotiation as well, whether this is a new job or one you've had for many years.
The first thing you will need to do is to find out the average salary in your industry and country/city for your specific role. There are many great online salary indicators, such as the CareerBliss salary scale, the Robert Half Salary Guide, or Payscale.com, which can help you assess your wage against the rest of the market. You could also do a thorough search for job advertisements for similar positions on sites such as LinkedIn Jobs and Simply Hired. This will show how much your role is worth to your employer.
Be Sure You're Worth it!
The most important consideration - and here you will need to be totally honest with yourself - is whether your current performance justifies you asking for more money. In other words, do you deserve it? It's a hard question to look at rationally, but it's one that you'll need to face.
Just staying in the same job year after year, putting in your best performance, coming in early or staying late, does not mean you'll automatically qualify for a pay raise. If you've been at a company for so long that your superiors no longer notice you (the infamous "part of the scenery" problem), then you'll need to change that situation ASAP.
You will need to be able to a) get your boss's attention, and b) effectively demonstrate your contribution to the organization, focussing on whether you've added significant value to your team and to the company as a whole. And - here's the importantly bit - c) you'll need to have evidence on paper to prove it.
In order to get that evidence together, ask yourself questions such as these:
Do I consistently hit or exceed my targets?
Have I achieved high sales figures or introduced new products or services?
Do I significantly outperform my colleagues?
Have I demonstrably increased departmental or company revenue or growth?
In order to get that pay raise you dream of, you will need to build a sound business case based on evidence, such as examples of successful projects you have worked on and your relationships with key people. Use figures and time-frames, as well as any great feedback you've had from your manager, your team or from satisfied clients.
If you work in a large company, be prepared to put a Powerpoint together showing company metrics from before you were hired, halfway through your employment and current day figures. It's not enough to show that the company as a whole has increased its revenue. You need to pay specific attention to the areas you have sole influence over, capture those numbers and present them in a compelling way. Your goal is to show – irrefutably – that your presence in your organization has made your company bigger, better, and richer.
In a nutshell, when asking for a pay raise, you need to justify why your employer should invest in you financially. So, just as you would in a job interview, be prepared to sell yourself for a second time.
Get Your Timing Right
It's important that you time your request for a pay rise very carefully. If it comes out of the blue, at a time when your boss isn't ready to enter into a salary negotiation, it could do your case more harm than good. Asking when your manager is rushed, stressed, or out of the office during non-work hours is almost guaranteed to end in failure.
An in-person request is a must - never ask via email or it will be all too simple for your boss to type back "No" - and then you'll have lost your case before you've even presented it. If you're serious about getting a raise, never give your boss an easy way to say "No."
The best time would be during your performance development review, which is when your strengths and achievements are being looked at and assessed. Some companies have a set time for pay reviews - if that is the case in your organization, you would presumably only be asking to discuss your salary if you were dissatisfied with it.
Understand how Your Organization Works
It is unlikely your immediate manager has the power to make any final decisions concerning salaries. So before you talk to them, make sure you know how pay awards in your company are processed, who is involved in authorizing pay rises and what influences can be brought to bear on the decision.
It is more than likely that your boss's recommendation will be enough to start the ball rolling, so you may well have to attend another interview with someone higher up in the company, in HR or on the Executive team. If this is the situation, and you know you have impressed your boss sufficiently for them to recommend you, you could then ask them for guidance on how best to present your case during this next step. After all, if your boss has been responsible for bringing you to the notice of senior management, it will be as much in their interests as in yours that you make a good impression.
Be Clear About What You Will Accept
If you have reached the final stage of the negotiation, you must be very clear in your own mind what your boundaries are, what you are prepared and not prepared to accept. One of the paramount rules in any negotiation is that, if possible, you should never to be the first to name a figure. If this is unavoidable, then give a range rather than a single sum, as long as you'd be happy to accept the very lowest end of the range.
If you have shown that you are a top performer, the company will be keen to retain you, but will of course want to do so at as low a cost as possible. So before the negotiations commence, think about whether you would be prepared to increase your responsibilities, or guarantee a greater output, in exchange for the salary you are hoping for. This could be all the incentive your employers need to grant your request.
Be Prepared to Compromise
Even if they recognize your value to them, your employers may not be in a financial position to offer a pay rise, or one as great as you were hoping for. In that case, you would have an ideal opportunity to discuss other benefits as an alternative. For example, you might be able to negotiate additional annual leave, or subsidized travel costs, or a flexible working arrangement.
You might also want to explore the possibility of funding for further training and development. Your employer will recognize that this will make you an even more valuable asset, and you will benefit from the opportunity to enhance your skills which will, of course, also raise your market worth.
Mistakes to Avoid
You must at all costs avoid becoming emotional during any negotiations. This may seem obvious, but if your request for a pay rise is based on real need - if, for example, you're having difficulty supporting your family on your current wage, or the cost of living or transport in your area has risen significantly - you may be tempted to present your current salary as a personal problem.
If you bring a negative note into the proceedings, if you come across as someone with a complaint or grievance, you will find it much harder to present yourself, your attributes and your achievements in a positive light, as someone who is worth the company investing in.
Whatever you do, don't look on the negotiation as "you vs. them". See it as a discussion in which to work out the benefits and obtain the best outcome for both parties.
And never, ever, give an ultimatum. Any form of threat - for example, to take your talents elsewhere - is highly likely to provoke a similar reaction in your interviewer and your bluff may well be called. Even making such a statement may be enough to set the cogs in motion within your manager's mind to start thinking about replacing you. Once that thought is in your manager's mind, even if they don't take any action, the knowledge that you once threatened to leave the company will likely affect your relationship with your boss from that moment on.
It is very important to stay in control of the situation. If you haven't been granted exactly what you hoped for, it's best to step back and, if your interviewer agrees, give yourself time to think it over. Never react instinctively. Those you are negotiating with should agree that it's reasonable for you to take your time in reaching a decision or in deciding what your next step should be.
Don't Burn Your Bridges!
If, despite your best endeavors, you haven't succeeded in negotiating the pay deal you wanted, you may end up feeling undervalued or unappreciated by your employers. You will then have to decide whether to stay where you are or whether to start looking for another job.
In either case, it is important to express your appreciation of the fact that your employer has taken the time to consider your case. If you stay, it will ensure the door remains open for you to broach the subject again at a future date. And if you decide to go elsewhere, you will no doubt want your current employer to write you a glowing reference. Moreover, if you remain within the same sector in your next job, it is quite possible that you may find yourself dealing with your former company at some point in the future.
So it is vital that you remain professional at all times. As a variation on a well-known saying goes: "The bridges you burn today will be the bridges you need tomorrow."
---
Tune in next Wednesday for more great career, job and interview tips! Same time, same place!