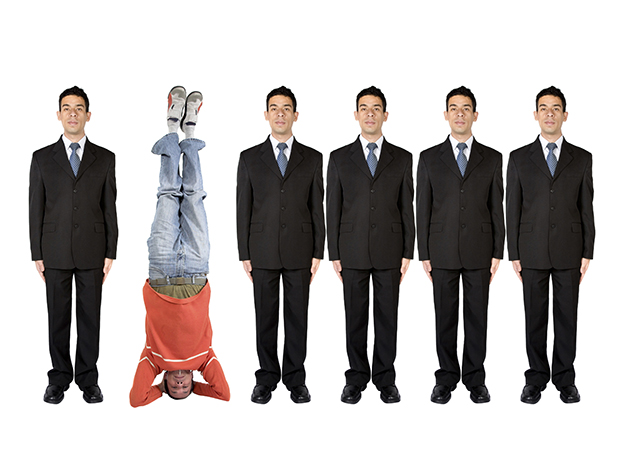 We can probably all remember a time in our childhood when we were scolded by our parents or told off by a teacher for showing off. Trying to get noticed or wanting to be the center of attention is often looked down upon in a modern society that appears to value people who are humble, modest and self-deprecating.
But in a working environment, particularly one where you are keen to climb the corporate ladder (not to mention progress up the pay scale), you really need to get yourself noticed in order to impress those who are in a position to help you achieve your ambitions.
"But I'm Good at My Job! I Don't Need Attention!"
Of course you work hard. And no doubt you're also conscientious, meticulous, reliable, a good team player, and so on. However, if you're at all ambitious it's simply not enough to come in every day, do a great job and then go home. In all probability, all this means is that your boss or manager will just keep giving you all those thankless, mundane tasks you plough through every week, safe in the knowledge that you can be relied on to complete them thoroughly and without complaint.
Keeping a low profile - no matter how excellent that profile is - means that those higher up the corporate ladder, those who are the decision-makers in your company, will be unlikely to notice you - indeed, if you work for a large organization, the chances are that they're not even aware of your existence.
So how should you go about raising your profile and promoting yourself?
Don't Shout - Whisper
Most of us cringe at the thought of self-promotion, associating it with boasting or bragging, traits which would undoubtedly be extremely irritating to our colleagues and may make us unpopular. But you don't have to blow your own trumpet to show how good you are. There are more understated and subtle ways in which to start increasing your visibility.
Here are the top 7 best ways to get yourself noticed at work:
1) Volunteer. The first thing you could do is to volunteer for additional assignments. Don't wait to be asked, especially if you know that it's a particularly busy period for your department or your company - for example, an unusually large order may have come in, or you may have taken on some additional new clients. It may mean taking shorter lunch breaks, or maybe coming in early or staying a bit later, but your managers will appreciate the fact that you've shown initiative rather than waiting to be asked, and may think of you for future opportunities.
2) Make Suggestions. Any employer worth their salt will welcome all ideas for corporate improvement, no matter where the suggestions come from. You may have an idea for an innovation or a change which could be made but think yourself too lowly or too lacking in experience to put your suggestion forward, particularly if you haven't been with your company for long. But, as Kris Flanagan, Associate Director at the internationally-renowned U.S. staffing agency Robert Half, says, you may be sitting on a gem of an idea, but unless you voice it, it counts for nothing. "Contributing ideas also shows you're an innovative thinker and demonstrates your desire to benefit the company," he adds.
3) Stand Up and Speak Out. Team meetings can also provide a good opportunity to raise your visibility. If you lack the confidence to speak out, or feel you don't have anything worthwhile to say, try to find out before the meeting what topics will be on the agenda so you can plan your contribution in advance. And don't be afraid to take credit for any suggestion you put forward, or any work that you do, which was well-received by those concerned. "If someone acknowledges a contribution you made on a project and you respond, "Oh, it was nothing", then don't be surprised if nothing results from it," says Flanagan. "It's perfectly acceptable to take credit for something that's well-earned, so don't let the fear of sounding boastful keep you from getting the attention you deserve. A simple, "Thanks, I'm glad what I did was helpful" boosts visibility; self-effacement does not."
4) Share Your Expertise. If another team or department is working on a project to which you think you could make a contribution, don't be afraid to ask if you can be involved. You could point out that you may learn new skills or expand on your existing ones by working in a different area, skills which could benefit your own department. You could then volunteer to speak about your newly-gained expertise at team meetings, or blog on the company's intranet or website. Gaining a reputation as an expert or a specialist in a particular field will raise your visibility within the company.
5) Stay Updated. Always keep up-to-date with any news or information which affects your industry. Read online trade newsletters, join forums and sign up for updates on any relevant industry material which keeps you informed about the latest trends, technological advances and so on in the field in which you work. You never know when this knowledge will prove valuable.
6) Take on Extra Responsibilities. Another way in which to raise your profile is to find out if there is any extra training available for voluntary positions associated with your company. Both the training and the extra duties could bring you into contact with colleagues and managers from other departments. Or maybe your employers support a charity or a local good cause - if so, you could put yourself forward to become involved by, for example, helping to co-ordinate fundraising events. It would raise your profile even further if you took part in a sponsored activity for that charity for which you could seek your company's support. Plus it might even be fun!
7) Don't be a Wallflower! Most of us probably dread those company social events - the Christmas party, the leaving or retirement "do" (especially if it's for someone we hardly know or, even worse, dislike!) So instead of thinking of how to leave as early as possible, or how to avoid them altogether, start thinking of these occasions as a way to make yourself known to people in the company outside your immediate team or department. Try to circulate, even if you're not outgoing by nature. Don't be afraid to introduce yourself to members of other departments, even if - in fact, especially if - they're senior to yourself. As Kris Flanagan says, "Creating new contacts builds camaraderie and is a good way to ensure you're known throughout the company."
8) Get Connected. Just as important as personal networking is ensuring that you also connect with people online. Always keep your professional profile on sites such as LinkedIn updated and make sure that it has the correct contact information. If you make personal contact with someone new at work you can then connect with that person online as well.
Finally: Don't Forget the Icing on the Cake!
One aspect of raising your business profile which is all too easily forgotten is personal appearance. Always dress for the position for which you are aiming - if you look the part it's much easier for those higher up the corporate ladder to see you in that part. Don't overdo it, but make sure that you always look smart, professional and business-like, remembering to pay attention to small details such as cleaning your shoes and keeping your breath fresh, particularly if you're a lunchtime smoker.
Above all, do your best to ensure that your colleagues value you as much as you hope your bosses do. Being nice to others will go a long way towards winning friends, influencing people and getting yourself noticed. Never be too busy to exchange a friendly word, lend a sympathetic ear or give a compliment. Memorize details of colleagues' families so you can ask after them. Remember people's birthdays. And above all, don't forget to smile!