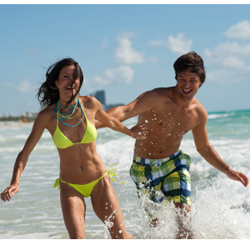 Already known for its beautiful beaches, rich culture and strong business community, Miami, Fla., now has another feather to put in its cap: It took the No. 1 spot on CareerBliss' Happiest Cities for Work in 2012 list.
"Miami, which ranked fourth last year is now first overall," said Matt Miller CareerBliss co-founder and CTO. "A large portion of Miami's economy is based on travel and leisure, and we have seen a dramatic shift in employee happiness in this industry, which may have an influence on the move in Miami's ranking from 2011."
Bliss Rating: 4.140
Average Miami Salary: $53,764
City Facts
Population: 399,457
America's cleanest city (ranked by Forbes, 2008)
Richest city in the U.S. (according to 2009 UBS study)
Top 5 Happiest Companies in Miami
1.
Florida International University
2.
Florida Power & Light
3.
Carnival Cruise Lines
4.
Macy's
5.
Miami Dade College