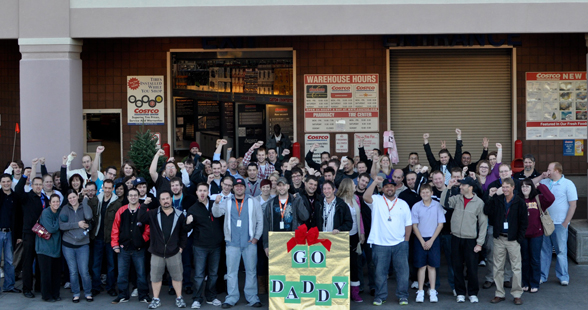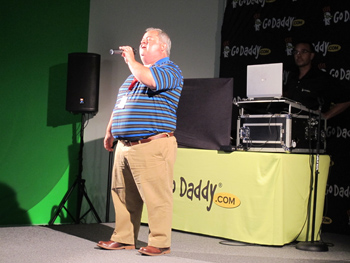 Offering stellar customer service and always striving for perfection are two of the cultural values that have helped Go Daddy become the biggest domain name registrar and Web hosting provider on the planet.
Employees of Go Daddy, founded in the late 90's by Bob Parsons, are encouraged to be themselves and are rewarded for their dedication with many unique perks, such as the Go Daddy cash machine, the famous Go Daddy Holiday Bash, and the Go Daddy Rockstar Program.
"Go Daddy has created a culture that values its employees and their ability to move up the ranks while growing professionally," said Lane Jarvis Chief Human Resources Officer. "At Go Daddy, be prepared to work hard and have fun. To excel at Go Daddy you must have a passion for technology and the desire to make a difference."
Here's What Go Daddy told CareerBliss About Its Culture
Working at Go Daddy means being a part of something special.  Go Daddy's workforce includes a variety of customer care, corporate and technical employees. While working at Go Daddy, employees don't have to throw their personality out the door. Go Daddy encourages a casual work environment.
Go Daddy's culture boils down to four core values:
Take care of the customer above all else
Hard work,
Individual accountability
Never be satisfied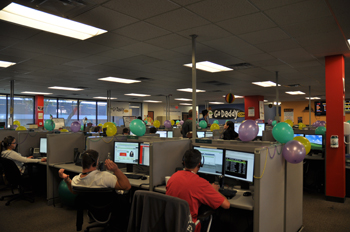 Cool Go Daddy Perks
Healthy Office: Go Daddy incorporates healthy initiatives in its offices. Go Daddy's Customer Care Centers have walking stations so employees can incorporate a light exercise routine into their workday. Go Daddy also provides healthy subsidized meals to employees at on-site cafeterias where employees can eat a healthy lunch or dinner for two dollars.
Parties: The most dramatic example is the annual Go Daddy Holiday Party. In 2011, Go Daddy celebrated with three holiday parties in Arizona, Iowa and Denver. Each party treated employees and their guests to great food, drinks and top-rate entertainment. As an extra bonus, Go Daddy Executive Chairman and Founder Bob Parsons drew employee names for cash prizes totaling more than $1.1 million.
Go Daddy Cash Machine: It's a small phone booth-sized machine that blows play money at Go Daddy's top performers. The employee grabs as much cash as they can in a set amount of time. Go Daddy pays out the amount of money the employee grabs, and foots the tax bill for the cash prize.
Events:  This year, Go Daddy employees participated in a traveling karaoke contest at different office locations. During Go Daddy's Got Talent, employees were invited to sing in front of their coworkers. Go Daddy's own judges chose the winners with audience help. The first place performance at each location won $1,000.
Programs: Through the Go Daddy Rock Star program, Go Daddy customer service representatives can become a Gold, Silver or Bronze Go Daddy Rock Star. All quarterly rock stars earn entries into a drawing at the end of the year for a cash prize, ranging from $500-$5,000, based on the level of Rock Star achieved.
Most recently, Go Daddy initiated the "Wow Me" program, allowing corporate and technical employees to nominate their coworkers for going above and beyond their normal role. The nominated employee will receive a pre-loaded Visa gift-card as a way to thank them for their hard work and dedication.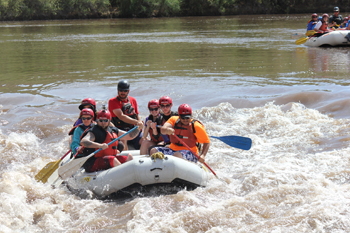 What do Go Daddy Employees have to Say?
"When I am at work, I know I'm making a difference. No day at Go Daddy is ever quite the same ... I like the ever-changing tasks and projects. Go Daddy's benefits are generous and you feel appreciated, from vacation time and insurance to 401ks and the holiday parties!" – Michelle Hedtke, Go Daddy Director of Product Marketing
"Working at Go Daddy makes me push myself on a daily basis to be the best that I can be -- not only to grow with the company but to better myself to continue to succeed in life." – Jason Pietrzak, Server Concierge
"I like working at Go Daddy because I am able to make a difference in my role as a new hire training specialist. Go Daddy's focus on my personal and professional development gives me the skills and tools to do the same for new employees." – Tommy Kern, New Hire Training Specialist
"I have never worked at a place that cares so much about employees and what they can bring to an organization. Go Daddy cares about who you are. I am Go Daddy for life!" – Ryan Fiske, Inbound Sales and Support Supervisor
1. Go Daddy creates growth opportunities within the company. Fifty percent of technical and corporate positions are hired internally.

2. Go Daddy invests in employees with professional development opportunities, such as the Junior Development Program, an internal internship that provides on-the-job training outside an employee's current expertise and Go Daddy University, the company's corporate college with professional certification and career development courses.

3. Go Daddy promotes team building through Employee Appreciation Initiatives. Go Daddy has paid for teams to do whitewater rafting trips, spa days and indoor skydiving.

4. Go Daddy pays taxes on all employee prizes, so the employee isn't burdened with having to pay the taxes on their reward. This is a long-standing tradition at Go Daddy. In 2011, Go Daddy gave away more than $750,000 in prizes to its employees. Employees have received cars, iPads, motorcycles, vacations and shopping sprees.

5. Go Daddy offers top-notch traditional benefits, such as industry-best health benefits, three weeks of vacation plus eight holidays in an employee's first year, six weeks of vacation after five years and maternity and paternity leave.

6. Go Daddy gives employees unique perks. Each year, Go Daddy employees are treated to an epic holiday bash. Most recently, Go Daddy celebrated with three holiday parties in Arizona, Denver and Iowa.

7. Go Daddy values and rewards employees with a hard work ethic. A visual example is the Go Daddy Cash Machine, a phone booth sized machine that blows money at Go Daddy's top performers.

8. Go Daddy Cares, the philanthropic division of Go Daddy is making a difference in the community. Employees can donate their time and money to support a wide variety of causes.

9. Go Daddy is a 2012 Fortune 100 "Best Companies to Work For" honoree. Go Daddy's workplace was selected because of its outstanding benefits, compensation, unique perks, diversity and company camaraderie.

10. Go Daddy employees are making a difference to customers and small business owners worldwide. More than 10 million customers rely on Go Daddy to be their personal IT consultant.