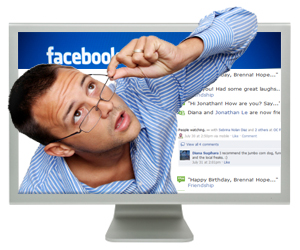 You should know by now: Facebook can get you fired.
Examples abound: the waitress who popped off about the lousy tip she got; the baseball team mascot who criticized management; the firefighter who blasted a colleague and complained about having to work Fourth of July.
All fired. Canned. Axed. Shown the door.
A high school coach in Southern California is one of the latest Facebook casualties.
It was a couple of photos posted to his public Facebook page that got Mitch Stein, who coached water polo at Charter Oak High in Covina, Calif., kicked off campus, according to news reports.
School officials were made aware of the photos – one showing Stein with a pair of drag queens, the other showing him (lewdly?) eating a corndog – by an anonymous letter from a parent, the San Gabriel Valley Tribune reports. Despite Stein offering to remove the photos or make them private, school officials fired him late last month.
While Stein's case has a unique twist – he is gay and claims that was the real reason he was fired, lawsuit to come – it still goes to show that what you post online can have real-world consequences.
So, double check your privacy settings. And, please, think before you post!