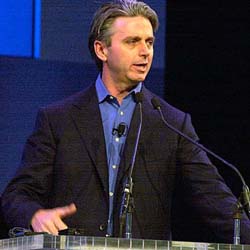 It's game over for Electronic Arts CEO John Riccitiello, who is resigning after six years at the helm of the game company due to financial shortcomings.
Riccitiello has a 63 percent approval rating from employees, based on Electronic Arts reviews submitted to CareerBliss in 2012.
From Riccitiello's resignation letter:
My decision to leave EA is really all about my accountability for the shortcomings in our financial results this year.  It currently looks like we will come in at the low end of, or slightly below, the financial guidance we issued to the Street, and we have fallen short of the internal operating plan we set one year ago.  And for that, I am 100 percent accountable.
Based on 255 company reviews submitted to CareerBliss by employees, Electronic Arts has an overall BlissScore of 3.5 out of 5 (as of March 19). The BlissScore is based on employees' ranking of factors that contribute to happiness at work.
Check out the breakdown:
Electronic Arts Happiness Stats
Growth Opportunity: 3.3 out of 5
Compensation: 3.5
Benefits: 3.8
Recommend to Others: 3.6
Work-Life Balance: 3.6
Career Advancement: 3.1
Senior Management: 3.7
Job Security: 2.8
Overall: 3.5