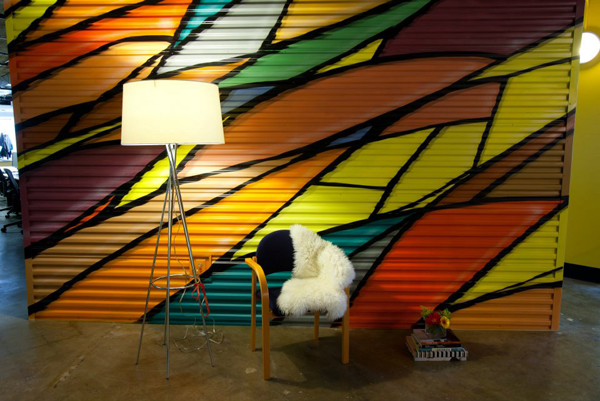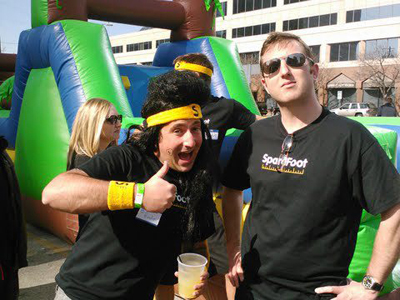 Innovation, passion, fun – not things we would have associated with the self-storage industry.
Of course, we hadn't heard about SpareFoot.
The 4-year-old company -- headed up by a young duo known as "Chario" -- merges high-tech and self-storage to give customers an easier, less-expensive way to stash their junk … er … valuables at participating facilities around the country.
And the team at the Austin, Texas-based startup is having a great time doing it.
But it's not just the the beer pong and sake bombs that get employees running to work – SpareFoot offers a collaborative work environment where everyone can be heard and everyone can contribute to the big picture.
"SpareFoot is one of the few places I've seen where most people really do feel lucky to work here and genuinely want to come to work every day," said John Durrett, SpareFoot's vice president of business development.
Here's what SpareFoot has to say for itself:
On the overall vibe: SpareFoot is an exploding startup. Everyone has a wide array of duties, and we're all very dedicated to the success of the company. It's a big group of friends working toward a common goal. The environment is a non-stop mashup of pop culture references, politically incorrect jokes and short bouts of intense physical activity.
On the guys in charge: We have a pretty flat organizational structure. It isn't hierarchical, and everyone contributes. SpareFoot's cofounders, Chuck Gordon and Mario Feghali, are young and driven. They don't play favorites and they enjoy spending time with employees. Chuck and Mario lead SpareFoot by example, working 12-plus hours a day, every day, including a lot of weekends. They'll do whatever is necessary to make SpareFoot win, but they're also two goofy guys who enjoy what they do and who they work with.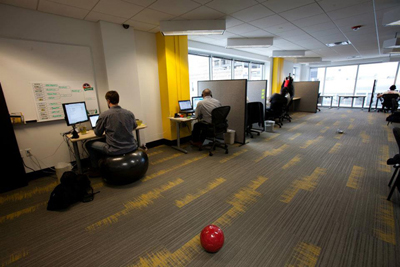 On working for SpareFoot: It's the most fun you'll ever have with the smartest people you'll ever work with. Working for SpareFoot is a massive opportunity to show off your skills and grow with the company. You'll want to come to work every morning because you know you're going to have a good time. There are unlimited opportunities to have your voice heard, and it makes you feel like you're a part of something awesome.
On the digs: The office looks like 1930's corporate industrial meets next generation web technology. We stock it with so much food and booze that you don't ever need to leave.  Competition is everywhere, with foosball, darts, beer pong and much more. There are plenty of opportunities to step away from the work for a minute, and then jump right back in. Also, we Installed corrugated steel storage doors to embrace the industry we're in.
On the employees: Self-motivated, smart, competitive, fun-loving  — with minimal sensitivity. We're all super passionate and we want to solve big problems. We want team members who are not afraid to fail.
3 best things about working at SpareFoot:
1. The people. Working with smart, driven people keeps you on your toes. Many coworkers have become best friends.
2. The culture. We get some pretty sweet incentives for hitting our goals, and we do a great job of that. We're free to set our own agendas and self-manage as long as we're having a positive impact.
3. The mission. We're building what will eventually be an enormously successful company. We want to transform the industry for the betterment of both storage facilities and consumers who are looking for storage.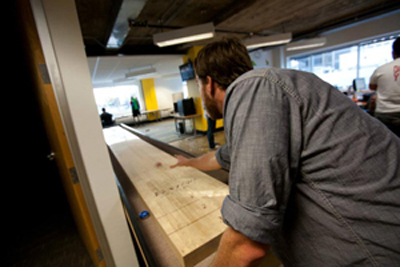 3 coolest things about SpareFoot's office:
1. When it was built in the 1930's, the Perry Brooks Tower was the tallest building in Austin.
2. Our conference rooms are named after sushi
,
which honors our tradition of sake bombing with new employees.
3. Tons of free food and a tournament-quality foosball table ... and the glue that holds the company together: the bar.
On getting a job at SpareFoot: You need to be accountable. We all rely on each other to work hard, in order to get results. SpareFoot is not for everyone. If you think you have what it takes and are willing to put in the work, apply for a job at SpareFoot.
Does your company have a great culture that people should know about? Email luke.roney@careerbliss.com