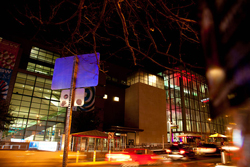 South by Southwest festival at the Austin Convention Center attracts some of the brightest, top tech talent in the nation.
That's why this year's event included the Digital Creative Job Market.
The Digital Creative Job Market is a "convenient meeting spot for innovative thinkers and equally innovative companies, the Digital Creative Job market enables talented professionals to match their skills with the 21st century, cutting-edge employers," according to the official SXSW website.
Take an in-depth look at 10 of the employers attending the SXSW Digital Creative Job Market.
Charles Schwab -- 3.9 overall BlissScore*
Intel -- 3.9 overall BlissScore
Walt Disney Studios -- overall BlissScore 3.8
Aetna -- 3.7 overall BlissScore
Bloomberg LP -- 3.7 overall BlissScore
Capital One -- 3.7 overall BlissScore
Crispin Porter & Bogusky -- 3.7 overall BlissScore
TBS -- overall BlissScore 3.6
DIRECTV -- 3.5 overall BlissScore
Target -- 3.4 overall BlissScore
*BlissScores are on a scale of 1 to 5