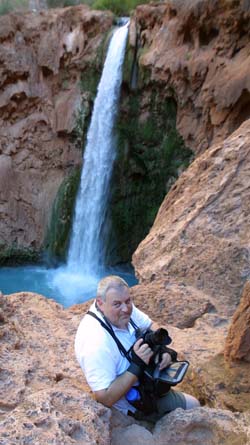 Dan Simon doesn't have many complaints about his job as an adjunct professor at Pennsylvania's Drexel University.
"The biggest hassle is finding a place to park in Philadelphia," he said.
A journalistic jack of all trades, Simon worked as a military journalist while serving in the Navy and, later, worked in print and broadcast news as a civilian. Today, he passes along his experience and knowledge by teaching a variety of communications classes at Drexel and a few community colleges.
"I found the ideal position," he said. "I get to talk about subjects I'm genuinely interested in."
Even more rewarding, Simon said, is the opportunity to "help young people grow and develop."
"I found the right calling," he said. "Instead of being a greeter at Walmart when I'm 70, I'm going to still be teaching."
[
Are you happy at work? Share your story.]
Not only is Simon happy with what he does, he's happy with the conditions under which he does it.
He's treated with respect by students and faculty. He has a good deal of autonomy in how he teaches his courses. And, because he's not tenured, Simon doesn't have to deal with faculty politics or the pressure to constantly publish.
He can concentrate on what he really wants to do: teach.
"I'm a glass half full person, anyway," he said of his positive outlook. "But not being stressed out because of my job is part of that."
But at the end of the day, it's being able to make a difference that brings Simon the most gratification.
To illustrate that, Simon recounted a story:
About six years ago, at the end of his first year of teaching, Simon was holding conferences with students from a photography class. As one young woman – described by Simon as the "stereotypical artsy student" – was leaving her conference, she turned to Simon and said something along the lines of "You know, I wish I would have had you for intro to photography. Because, until taking your class, I always hated photography."
"Having someone tell you you've made a difference is an incredible feeling," Simon said.