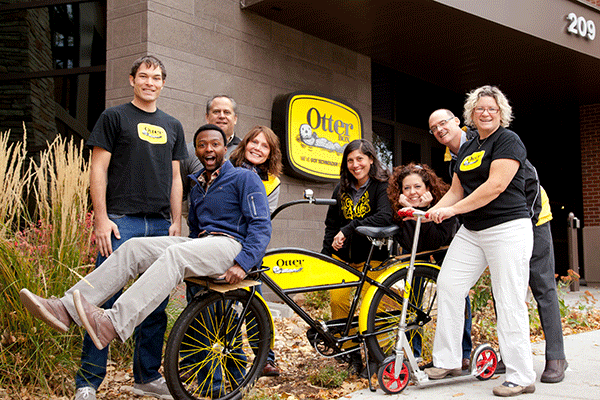 OtterBox, the No. 1 selling case for smartphones, is a family-owned company founded in 1998 in Fort Collins, Colorado.
"The atmosphere is not typical. We are more of a family than just coworkers. Everyone is always supportive and willing to go the extra mile," says one OtterBox customer service employee (aka Otters).
Guided by the core values of passion, integrity, partner relationships, systemic, innovation strategy-driven, accountability and adaptability, Otters are challenged to be entrepreneurial in their roles.
"Just having an 'entrepreneurial flare up' doesn't mean you know how to run a business," says OtterBox founder and chairman, Curt Richardson. "It's about creating a culture where people want to work for your company, believe in what they are doing and where customers want to be a part of that too."
Communication is at the Heart of OtterBox 
OtterBox grew quickly from a 30-person shop to a 900-person global firm with offices in Europe and Asia. To help keep their communication strong, they have internal communication specialists whose sole job is to implement best practices in staying connected. Intranet systems, quarterly meetings, OtterTV for streaming video and a monthly CEO roundtable are all strong elements of maintaining strong internal communication.
What Does it Take to Be an Otter? 
Culture is so vital at OtterBox that it's an official element of the hiring process.
"Each candidate that passes the round one telephone screening will participate in a cultural interview with questions that speak to each of the company values," an OtterBox spokesperson told us. Culture comes first. You can't move on to interview with the hiring manager unless you pass the culture test!
"In most companies, people want to succeed at their position because it promotes personal professional success. This is the only company where I want to excel at my position because I want to see the company succeed," says one employee in accounting and payroll.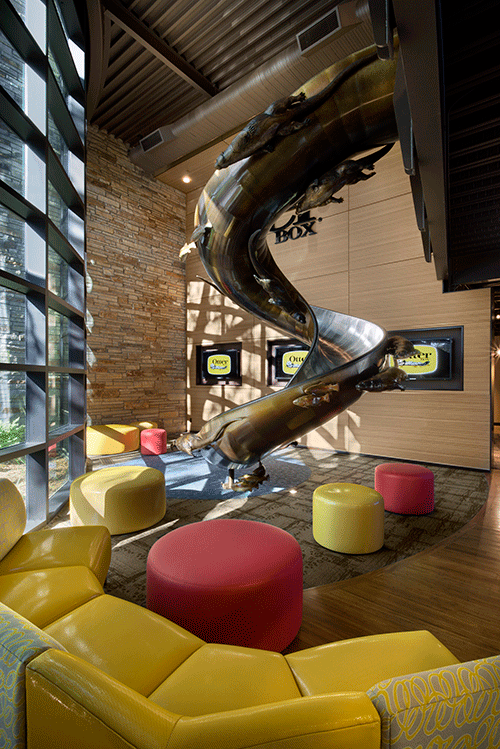 This is a classic representation of the OtterBox culture and values!
Sweet OtterBox Perks
A robust healthcare package, including discounted gym memberships, acupuncture and massage therapy!
Cash bonus incentives
24 hours of paid time off for volunteering
LIfePlan: two-day personal strategy session after one year anniversary
Financial plan: personal financial planning after one year anniversary
Weekly fruit delivery, onsite fitness room and outdoor activity groups
OtterTots: Cute OtterBox onesies and parents' luncheons
Discounts at local businesses via Food Coop Membership
Budweiser Events Center Box Suite raffles
 "From the onsite fitness room and discounted gym memberships to the weekly fresh fruit and annual fitness challenges, OtterBox shows its dedication to the physical well-being of its workforce," one product development employee told us. "Since being hired, I have run my first half and full marathon and tried new sports, such as road biking."
 The OtterBox Office Digs
 The headquarters includes an awesome spiral slide with bronze otter statues affixed to the sides…right in the lobby! They also offer commercial-grade latte machine, soda fountain, massage chairs, pinball and table games!
It's designed to make employees feel at home rather than reluctant to come to work.
A Few OtterBox Honors: 
1. Inc. Hire Power Awards – Among the nation's biggest job creators in 2012
2. Fortune's Great Place to Work "Best Small & Medium Workplaces" 2012
3. Forbes' "America's Most Promising Companies" – 2013