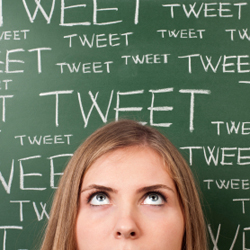 Don't know what Twitter Chats are? Your life is about to change. Career experts actually host weekly live Q&A's with professionals, hiring managers, career experts job seekers and others.
It's an awesome way to gain a little visibility, interact with the career scene and expand your Twitter network with some people that will actually respond to your tweets. Oh, and maybe learn a thing or two about effective job searching!
The way it works is for about an hour at a given time, one moderator asks a question preceded by "Q1" (aka Question 1) anyone is free to respond to that question by starting a tweet with "A1."
Over the course of one hour, the community covers 2 to 3 questions.  It's all in real-time using hashtags (#). Try observing one to learn about the etiquette and flow of conversation. Check out Tweetchat.com to make the live conversation easier to follow.
And ... drumroll please … Here are four useful Twitter chats you should join in:
1. #CareerChat – Moderated by @MyPath_MP and @Bizmebizgal. (We participate religiously!) Tune in Tuesdays 12 PM EST.
2. #LinkedInChat – Moderated by @LinkedInExpert and @SteveCassady. Tune in Tuesdays 8 PM EST.
3. #JobHuntChat – Moderated by @Blogging4Jobs @GirlMeetsGeek and @CornontheJob.  Tune in Mondays 10 PM EST.
4. #HFChat – Also known as Hiring Friday Chat, moderated by @Hire_Friday @TomBolt and @CyndyTrivella @LevyRecruits.  Tune in Fridays 12 PM EST.