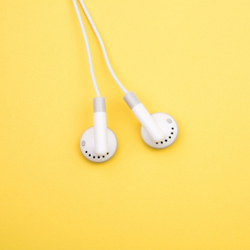 If your office allows you to plug in some headphones to get yourself in the zone, this post is for you.
Music has inexplicable moving qualities. It can amplify emotions and even alter them --just look at Adele's songs and the science behind why they make you cry. There are musical elements in her heartbreaking ballad "Someone Like You" that provoke emotion.
But we don't want to make you cry.
Instead, we came up with a list of curated playlists that contains musical elements to pump up motivation, focus, or drown out distractions.
Needless to say, everyone works best in different conditions. But if you're looking for some great starting points to help you focus, and are too busy (or lazy) to find it yourself, here are a few links to music that has helped many people bring happiness and productivity to their work:
1. Stereo Mood
This whole website is based on the idea that we should literally play to our emotions. It's so simple and so fun! Click on the mood that you fancy at this very moment. Their collection includes work-related moods, such as:  thinking, optimistic, studying, lost in thought, energetic, well-read, smooth, reading and, of course, working.  You don't even have to sign up -- but if you do, you can customize the playlists!
2. Pandora: Explosions in the Sky Station
No, it's not the sound of continuous kur-plutz's as the universe blows up. It's actually the name of a band that describes their music as: "cathartic mini-symphonies." Pandora, like StereoMood, digs up music that contains similar instrumental rhythms to get you in the working mood.  Writer and Blogger Jeff Goins uses this playlist as his go-to while working as well, he said in an interview with Some Wise Guy.
Researchers have studied this classical style of music and its effect on productivity for a while now. LifeHacker cites productivity writer David Allen who once mentioned that he prefers Vivaldi's "Four Seasons" among other Baroque tunes. They also cite a study which found that Baroque music had the greatest positive effect on mood and work satisfaction.
These are only a few tried and tested work playlists. What music makes you happy at work?
Want to listen to music at work? You need a job first. Check out CareerBliss' millions of jobs.