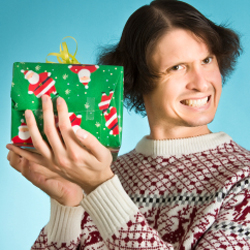 Unless you can find a genie that can grant three job offers by tomorrow, chances are your holiday gift won't have the power to solve the woes of the job seeker in your life. But you can give a gift that will bring them some happiness.
Check out these top 10 most perfect gifts to help the pavement pounder in your life:
10. A Decent Haircut
Because nothing screams "hire me" like a dashing haircut. After all, interviews are also a test-run to see if you are someone employers would want to be around every day. Unkempt folks could be at a disadvantage.
9. Pet Dog
Because it's a well-known, proven fact that petting a dog relieves anxiety, reduces blood pressure, and triggers significant feelings of internal warmth and fuzziness. Give the gift of an unconditional companion (oh … and a year's worth of vet care and kibble!).
8. Gym Pass
Because a gym membership will help him to release stress and get a killer endorphin buzz while working on his bod (hello, increased self-esteem!). Costco probably has the best deal: About $300 for 2-years access to 24 Hour Fitness. Heck, maybe he can do some networking while he's waiting for the elliptical machine.
7. Business Cards
Because snazzy business cards are kind of like ammo for networking (not to mention they just make a person feel important). Keep in mind, though, you'll likely have to work with her on this one in terms of designing the card as well as the content.
6. Coffee Shop Gift Card
Because invigorating java is a must-have for all those late nights of reading company reviews, tailoring cover letters and researching info like current job openings at Microsoft or learning about what their potential salary at Apple.
5. Tickets to Disneyland
Because you can't help but smile watching Pluto or Goofy dance around a theme park. If you're feeling generous (or you're simply loaded) spring for a season pass so that the job seeker in your life can have a break or two to maintain their sanity!
4. Costco Membership
Because Costco's free samples and wholesale prices are a job seeker's paradise. And, not many people know this, but Costco has a 100 percent satisfaction guarantee on membership.
3. Lotto Tickets
Because chances are they will give you a portion of the lottery if they win!
2. Bubble Wrap
Because popping those little air sacks is one of the most fulfilling and stress-reducing experiences in the entire world.
1. Briefcase Full of Cash (Singles Will Do)
Because, well, it's a bunch of money, and it'll boost their confidence by making them feel important, like they are part of a heist. And later, once the money has been spent, they can take the briefcase to job interview—Bonus gift!