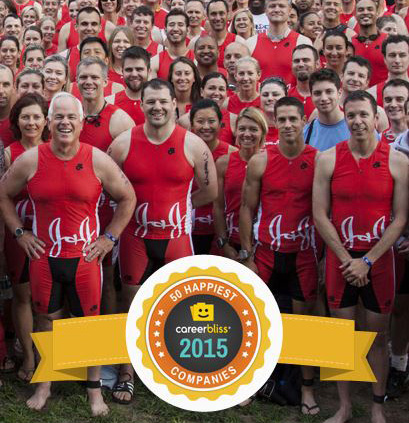 "Caring for the world, one person at a time," is the motto of Johnson & Johnson. From their humble beginnings selling surgical dressings over 100 years ago, Johnson and Johnson has now expanded their operation to over 275 operating companies in more than 60 countries, employing approximately 128,700 people.
Employees of the Johnson & Johnson Family of Companies work with partners in health care to touch the lives of over a billion people every day.
With such a proud history, it's no wonder that the global leader in the pharmaceutical, medical device and consumer health industries took this year's #1 spot on the
CareerBliss Happiest Companies of 2015 awards list.
Why Johnson & Johnson Employees Are Happy - in Their Own Words
"People and values are our greatest assets. We know that every invention, every product, and every breakthrough we've brought to human health and well-being has been powered by people. Not ordinary people, though, but people whose personal values drive them to make a difference in the world."  - Senior Process Engineer, Texas
"J&J is a solid company with an excellent (well-deserved) reputation. They understand that life does not start and end at their door, and actually take the commitment to their employees seriously. The people care about their customers (i.e., sick people) and generally behave in an ethical way. Further, the products being developed have a meaningful and beneficial impact on the lives of real people." - Director of Strategic Analytics, New Jersey
"Johnson & Johnson is an extremely family friendly organization. Although the work environment is high-corporate in every sense of the word, there was still an air of friendliness missing from many other organizations of its magnitude. The benefits are too numerous to mention, from health to education for employees and also their families. Great experience." - Administrative Coordinator, New Jersey
"It was a wonderful environment to work in. Management was easy to go to and great to work for as well. It was a very fulfilling job. The company took good care of its employees. You always had the opportunity to prove yourself, and they in turn would acknowledge you." - Customer Service Associate, New Jersey
"J&J is a solid performer in the biotech and pharma sector, and it's on the forefront of technology and R&D. J&J's culture is one to admire since it values the individual, in a global effort to be best in class. J&J acknowledges that everyone has something valuable to contribute to the corporate goal, and that cultivating people to fully utilize their potential is vital." - Biotechnician, California
"Wonderful company to work for. The culture is based on mutual help and encouragement." - Anonymous Employee, Texas
"I consider myself extremely fortunate to work in a company that saves millions of lives worldwide. I had an amazing time here, learnt a lot of new things." - Scientist, New Jersey
---
Sound good? Check out jobs at Johnson & Johnson.