CareerBliss has salary info, hundreds of thousands of company reviews and millions of jobs!
---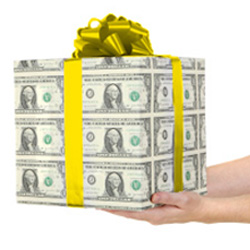 It's almost time for that holiday hullabaloo — when companies will hire hundreds and hundreds of seasonal employees while scrambling to keep their aisles clear and their customers taken care of.
"With the economy still recovering and retail hiring showing growth, job openings in August were up 11.6 percent compared to the previous month. Seasonal jobs are a sweet spot in the job market," says Carolyn Hughes, a vice president at Simply Hired.
HalloweenCostumes.com, for instance, is aiming to bring on a total of 1,200 seasonal workers! Here's the best part: "60-70 percent of our full time staff began as seasonal workers," says Aleksandra Sobic, public relations specialist at HalloweenCostumes.com.
Here's how to scoop up a temp job and turn it into a permanent one!
The Best Time to Start Searching is Now!
Don't wait until November.
"Many employers start the seasonal hiring process as early as September so that they can plan staffing ahead of the holiday rush, implement training and get workers up to speed before the busiest sales periods," Hughes says.
Employers are busiest in October as they're looking to staff and gear up for post-Thanksgiving and December sales, she says.
Steve Silberberg, who runs a seasonal business called FitPacking, also points out that applying mid-season isn't always hopeless. "Seasonal workers sometimes have a propensity to quit or change their seasonal position, so don't be afraid to apply for a position mid-season," he says.
Act Like a Permanent Employee
Lots of employers are hiring with a "try before you buy" mindset, which means this is a wide open opportunity to impress them enough to offer you a full-time gig.
And, it's entirely possible to move to another department. "Two of my fellow marketing team members actually began in shipping, and are thankful for their unique perspective and greater understanding of all the moving parts it takes to make our company a success," Sobic says.
However, Roy Cohen, career coach and author of The Wall Street Professional's Survival Guide, suggests that you never express your preference for a permanent position during the interview.
"Either the employer will feel pressure to convert you over the course of the assignment to a full-time position or fear that you will leave prematurely," Cohen says.
Emphasize Your Flexible Schedule
A flexible schedule is a must-have for seasonal employers. In your application and interview, emphasize that you're reliable and available to work when they need you.
"During the holiday season, many employers often offer extended hours, late-night sales and expanded shipping and delivery hours. In determining staff, these aspects must be considered," Hughes says.
A Great Attitude Goes a Long Way
Among all the hustle, bustle and stress of the holiday season, seasonal employers will find your enthusiasm and positive attitude refreshing.
"Treat the work as if you are a permanent — and grateful — employee because it is likely that your attitude and contributions will be noticed," Cohen says.
Guest posts make us happy! Want to contribute to CareerBliss? Check out our submission guidelines.