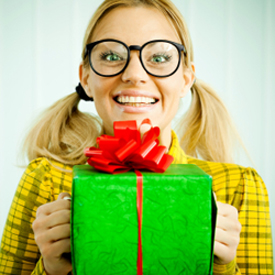 The holidays are stressful enough on the home front -- don't let gift giving at the office complicate things further. Use these guidelines to keep your reputation (and sanity) intact:
Examine your relationships.
"Whether to give or not to give depends a lot on your position in the office 'power hierarchy,'" says Vicky Oliver, author of 301 Smart Answers to Tough Business Etiquette Questions and The Millionaire's Handbook: How to Look and Act Like a Millionaire, Even If You're Not. "For example, people who work 'under' you and routinely serve you at work (i.e., your assistant or the receptionist) should get a small gift as a gesture of gratitude. Likewise, if you have a supervisor or boss, it's customary to go in on a larger gift with several coworkers to express thanks, loyalty, and solidarity."
Oliver also notes that you needn't feel obligated to give something to all of your coworkers. (Proceed with care, however, if you work in a very small office, where leaving one person out would hurt feelings). If somebody has been particularly helpful or supportive to you this year, it is fine to single that person out with a small gift and a note of appreciation – but be tactful and discreet.
Aim for thoughtful, not showy.
"Gifts are just a form of saying 'thank you,'" says Dr. John Mellon, etiquette consultant and professor of business at Misericordia University in Dallas, Pa. "A thoughtful gift is almost always appropriate."
Mellon recommends gifts that "bring a second level of excitement," such as scratch-off lottery tickets, tickets to an event, or a gift card. "There's the initial pleasure of receiving a gift, but then the gift provides a joy that lasts," he says. "Remember, it's not what you like, it's what the recipient would like. A gift card to their favorite restaurant, or if the person enjoys a certain sport or hobby, you can give them something related to that and say, 'Here's a gift of relaxation.'"
However, don't cross the line into gifts that are too personal. Items that the receiver would be embarrassed to open in front of others or ones that might be interpreted the wrong way don't belong in the workplace. Likewise, don't overspend. You don't want to look like you are trying to buy someone's favor or show up others with your superior gift.
"The rule of thumb for office gifts is that they be inexpensive. It's poor etiquette to spend, say, $50 on a bottle of eau de toilette or a designer scarf for a coworker, because chances are she'll buy you chocolates and then feel embarrassed," Oliver says.
Consider alternatives.
Many offices find that Secret Santa or grab bag exchanges are festive -- but less costly and nerve-wracking -- ways to handle the issue of gift giving. Bringing in food for the staff, whether that be coffee and donuts in the morning or homemade cookies and hot chocolate in the afternoon, is another way to celebrate and show your appreciation for others.
Some companies have policies that limit or prohibit the exchange of presents, so you may want to consult human resources or your employee handbook before deciding what to do. Remember, too, that gifts do not always come in a box. Offering to help a coworker or writing an individualized note of appreciation achieves the same objective – letting someone know that he or she is important to you.