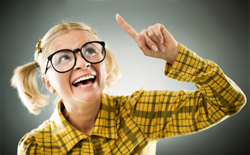 So many of us look at the New Year as a time to make resolutions for the coming year. But why not summer? It's warm, sunny and many of you may love the sense of optimism that the season brings.
So, instead of waiting for the New Year to get resolution intense, how about thinking of summer as a time for some career housekeeping? If you're up for that, here are a few simple resolutions that will help you grow as a new professional this summer.
1. I will learn my job – all of it
We have a tendency to focus on doing the stuff that we are naturally good at, that we like and that we find easy to do. What are the more challenging parts of your job that you avoid, and what can you do to expand your scope?
Action you can take: Identify one thing you avoid doing, and commit to tackling it this summer.
2. I will practice the stuff I don't like doing
Do you dread facilitating meetings, dealing with the annoying guy in marketing or handling an issue for an angry customer? Resolve not just to tolerate those things, but also to confront them with gusto!
Action you can take: Look back at the first half of the year, determine what your rough edges were, and put those on the list for summer polishing. Let your manager know your goals about this and proactively seek her feedback.
3. I will keep trying, even when I fail
So you tried to have a difficult conversation with a co-worker, and it didn't go so well. Or you didn't close the first sale? Try again. And again. And one more time, if necessary.
There is no substitute for experience. Each time you'll improve. Taking more shots gives you the experience to see what works and what doesn't. Then you get better. That builds skill, and confidence.
Action you can take: Identify one thing that trips you up. Talk to a mentor or coach and then reframe your approach with some new action to get different results.
4. I will not be limited by where I am
Not in your dream job? It's ok. In nearly any situation you must find ways to develop, learn, and grow. I challenge you to find skills that you want to learn, knowledge you want to acquire, and experience you want to gain in this coming year.
Action you can take: Identify three key areas of skill, knowledge or experience where you'd like to expand, and determine the steps you can take to acquire those self enhancements.
5. I will take weekly stock of my progress and learning
If you were a business, you would take some kind of weekly inventory. It's how you take stock of your assets and determine the value of your business. Doing so tells you where you are on the road map, versus where you should be.
Well, in a way, you ARE a business! Aren't we all kind of self-employed, contracting with our employers?
Action you can take: Set aside an hour of personal time on the same day each week to block off your calendar and reflect on the week. Document what you are noticing, how you are making progress and adding value, and where you need to course correct.
6. I will not give up without a fight, er … strongly advocating for what I need in the workplace
It was recently reported that nearly 70 percent of Gen Yer's depart their first job in two years. An entire industry has cropped up to teach companies how to deal with Gen Yer's in the workplace. Clearly organizations have some work to do here.
If you're tempted to run because you're frustrated by the organization that employs you, however, consider this: as a young professional you have an unprecedented opportunity to change that organization from the inside, from the ground up.
Action you can take: Schedule regular conversations with your manager, and advocate for what you need (professionally and respectfully, of course). Use words like, "I know you're very busy, but I'll be better able to support the mission if I get more frequent, and specific, feedback from you about how I'm doing. What can we do to make that happen?"
These suggestions present a great opportunity for you to help craft your own development strategy. Try a few simple things and see what happens by the time fall comes around!
Which of these resolutions do you plan to implement? Share your comments and observations below. And, make it a great summer!