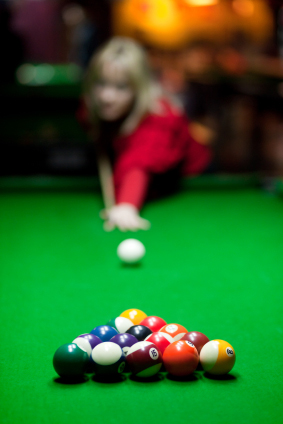 Each day, workers around the U.S. are faced with a crucial decision: what to have for lunch.
In fact, here at CareerBliss, the lunch discussion starts early in the workday. Consensus is, at times, hard to come by. Lobbying ensues. Factions form. Loyalties are tested.
In the end, though, everyone returns from their respective repasts as friends, regaling one another with tales of their delicious encounters.
For some workers, however, the "lunch" in lunch break is a mere suggestion -- a suggestion ignored -- and their mid-day hour away from the office has little to do with eating.
Check out these novel ways that some spend their lunch breaks:
Become a Pool Shark
Christina Kugel worked as a wine buyer and bar manager for a high-end restaurant in Manhattan. The job was interesting, she says, but her coworkers weren't.
Long workdays surrounded by unbearable colleagues took its toll.
"I felt like I was losing my mind," Kugel says.
One morning she saw the light — a neon sign flickering "Billiards" in the front window of a dive bar near her restaurant.
"The sign immediately flashed me back to the youthful days of sneaking my dad's beers out of the fridge in the garage and playing pool in the basement with my brother," Kugel says.
She made a mental note of the dive and headed to her restaurant.
"That morning was especially bleak at work," she says.  "By lunch time, I couldn't take it anymore."
Kugel hurried to the dive bar. Once there, she ordered a Guinness.
"Almost immediately," she recalls, "an old, weathered-looking man to my right asked me if I wanted to play."
Despite losing the game, "it was the most fun I'd had in a long time," Kugel says.
From then on, Kugel spent lunch shooting pool. Nicknamed "The Lady" by regulars, she began playing for money, pulling in $200 on a good day.
"It felt like I had a cool, secret identity — my edgy, pool-shark life."
Work at a Deli
When Hope Rising, a paralegal, worked in Colorado, she would spend her lunch break by serving lunch: "I would work behind the counter of the deli around the corner from my office during the lunch rush."
The perks were threefold:  "It filled my lunch hour and I got a free lunch, plus $10 an hour."
Fight Club
Danny Boice used to train in mixed martial arts. His training partner was a world champion kickboxer. One day, they had a session during Boice's lunch break. Another experienced MMA fighter, a former Olmpian, also was at the gym.
"Both of these guys were really good, and way better than I was," says Boice, cofounder and CTO of Internet teleconferencing startup Speek.
Nonetheless, Boice agreed to a sparring session, taking turns with each fighter.
"I got my butt kicked. I came back to the office with a bloody nose and generally red face. It looked like I had been at Fight Club or something," Boice recalls. " As an executive at a very old, conservative and $1 billion company, I got some very strange looks."
Seek Thrills
"Years ago, we would walk down the street to Rye Playland [in Rye, New York] and ride the Dragon Coaster a few times," says Rich DiGirolamo, who describes himself as a "superhero, RECESSitator and champion of great employee experiences."
Take a Snooze
"I used to have a job where I'd drive to a local park and sleep on the ground under a live oak tree every day at lunch," says Steve Silberberg. "It was by far the best part of my day."
Impromptu Job Interview
Sarah Taylor liked her position, but the constant squabbling and gossip of her coworkers was hacking away at her happiness.
One day Taylor, who these days is a manager for Admission-essays.org,  was  on her way to lunch with a friend. She complained about her working conditions. Her friend said she had a better idea than getting lunch. The friend's company was hiring.
"And instead of eating," Taylor says,  "I was being interviewed."
She got the job. And, better yet, the new position was a step forward in her career.
Upon returning from her impromptu lunchtime job interview, Taylor immediately wrote her letter of resignation.
"My boss was quite surprised, I have to admit."
Pursue Acting
"I would leave my job as a drug and alcohol counselor at a social service agency, get all dressed up and go out on commercial auditions," Says Jen Bosworth. "People never questioned why I left [for lunch] looking like a schlub and came back all glammed up."
Donate Blood
"Once every eight weeks, I use a lunch hour as a time to donate blood," says Leslie Handmaker, who works for Next Day Flyers. "My office is close enough to the facilities, or the blood mobile is usually making a stop at a nearby location. So it's both a convenient and a productive way to spend my lunch hour."
Surf the Mediterranean
"While living in Barcelona," says Michael Freeman, a senior manager with ShoreTel Sky. "I'd head out to the beach to surf in the Mediterranean whenever there were waves."
Spray Tan
Kelsey Meyer, now president of Digital Talent Agents, came back from one lunch break glowing.
"I had gotten a spray tan during lunch," she says, "and during the period, when you're waiting for it to dry before the first shower, you look almost orange."
Meyer confounded her coworkers by denying that she'd done anything more than eat lunch during the break.
"They spent the rest of the day trying to figure out why I looked different," she recalls.